50 Mile
The Mt. Hood 50 is a heavily shaded 50-mile race that is run almost entirely on the Pacific Crest Trail. The trail is generally soft with good footing, although there are some technical sections with rocks and roots. Runners will start by running North from the Clackamas Ranger Station to the Frog Lake Aid Station, just before Highway 26. They will then return to the start/finish and head South to the Warm Springs Meadows Aid Station, where they will turn around and head back to the finish. Total elevation gain is approximately 5,630 feet.
The 50-Mile race is on Saturday, July 8, 2017

Check our Facebook Page for updates.
50-Mile Fee
Entry:
$120 (1/4-1/11)
$130 (1/12-7/2)
Optional shirt is available for purchase during registration. Shirts are available until June 7.
This 50M race fills up quickly so we will use a lottery to give more people an opportunity to enter. Registration will begin Wednesday, January 4, 2017 at 7:00 am and ends on Wednesday, January 11, 2017 at 6:00 pm. We will draw 150 names from all that register and publish on January 13th. Those not selected are placed onto the wait list in the order they are drawn. You can watch the drawing at noon on Facebook Live and see the names on Twitter too.
Please note that there are no transfers to other runners. If you need to cancel your registration and it's more than 30 days prior to the race, you will receive a 50% credit toward a future Go Beyond Racing race. If your cancellation is 30 days or less from race day, there is no credit, no refund, or no transfer.  See our cancellation policy for details.
50/50
Do you want to run the 50M on Saturday and the 50K on Sunday? You will need to sign up for both the 50K and 50M. The 50M registration must occur before the lottery registration closes on January 4th. During the 50M registration, you will indicate that you want to run the 50/50. By doing this, you will bypass the 50M lottery and get into both races.  But remember… you'll have to run 81 miles that weekend!
Looking for the 50K race?
Start Times and Cutoffs
The race will start at 6:00 a.m. There is no early start.
There are two cutoffs. Runners must leave the Start/Finish Aid Station by 1:00 p.m. (mile 28). The second cutoff is at the Warm Springs Aid Station (mile 39) at 4:00 p.m.
If you miss the 4:00 pm cutoff, you will be asked to return to the Start/Finish with the Aid Station volunteers.
Aid Stations
Aid stations are stocked with GU gels, Glukos, chips, PB&Js, gummy bears and other ultra fare. Please bring your own aid and utilize your drop bags if you have special needs.
Go Beyond Racing is cupless. You'll need to bring your own cup for liquid aid at all aid stations. You can refill bladders and bottles too. Read more about what it means to be cupless.
| Aid Station | Total Distance | Full Aid | Porta-Potty | Drop Bag |
| --- | --- | --- | --- | --- |
| Start | 0 | Yes | Yes | Yes |
| Little Crater Lake | 6.0 | Yes | No | No |
| FSR 58 | 9.2 | Yes | Yes | No |
| Frog Lake | 14.2 | Yes | No | Yes |
| FSR 58 | 19.2 | Yes | Yes | No |
| Little Crater Lake | 22.4 | Yes | No | No |
| Start/Finish | 28.4 | Yes | Yes | Yes |
| Red Wolf Pass | 33.7 | Yes | No | No |
| Warm Springs | 39.2 | Yes | Yes | Yes |
| Red Wolf Pass | 44.7 | Yes | No | No |
| Finish | 50 | Yes | Yes | Yes |
Drop Bags
Place your drop bags in the appropriate drop bag area at the Start/Finish by 5:30 a.m. the morning of the race. Drop bags are returned to the Start/Finish after the Aid Stations close.
Because drop bags are transported a few different times during a race, here are some best practices and restrictions around the size, quantity, and contents for Go Beyond Racing races:
Clearly label drop bags with your name and race number. You may not be the one trying to locate your bag and many can look alike.
Securely close all drop bags. Cinch bags are not the best as they easily open. Races are not responsible for lost items.
Drop bags should be no more than 21 cubic liters (1,281 cubic inches).
One drop bag per aid station.
Pacers are not allowed to have a drop bag. Any items a pacer may need must go into their runner's drop bag.
Do not use paper bags or boxes as these will tear and disintegrate in wet weather.
No perishables.
No glass bottles or containers.
No coolers or plastic, Rubbermaid-style bins.
Don't over pack!
Read more about drop bag etiquette.
Check In / Bib Pick Up
Check-in and day of race bib pick-up takes place at the Start/Finish area at Clackamas Ranger Station from 5:00 am – 5:45 am on July 8. All runners must check in and get their bib the morning of the race.
Pacers
Our USFS permits strictly limit the number of runners on the trails so pacers are not allowed in this race.
Post-Race and Awards
Join runners, volunteers and family members for some delicious post-race food, with Red Duck pulled pork sandwiches and veggies burgers at the finish! We will have some great awards from our sponsors for the top-3 and top masters. All runners will have a great chance of scoring some great products from our sponsors in the post-race raffle!
Directions
The Start/Finish will be at the Clackamas Lake Historic Ranger Station, near Timothy Lake, and approximately 20 miles south of Mt. Hood. (45.0986, -121.7513)
From Portland, take Hwy 26 towards Mt Hood, drive past Government Camp and continue ten miles past the Hwy 35/Hwy 26 intersection to Hwy 42 (also marked as Skyline Rd and Timothy Lake). The Hwy 42 turnoff is close to the 66-mile mark on Hwy 26. The Clackamas Ranger Station is 10 miles down Hwy 42, 1/4 mile past Hwy 42/Hwy 57 intersection on Hwy 42.
Google Map for start location.
Camping/Lodging
The Mt. Hood area has some great places to camp and Timothy Lake has more than 150 campsites. Below is a list of the closest campgrounds.
Clackamas Lake (closest to start – 1/2 mile), Oakfork on Timothy Lake, Gone Creek on Timothy Lake, Pine Point on Timothy Lake, Little Crater Lake (aid station on course about mile 6), HoodView On Timothy Lake. To reserve, click on one of the links above, or call 877-444-6777, or go to www.reserveamerica.com. Please note that the USFS strongly discourages camping outside of established campsites. No camping is allowed at the Clackamas Lake Guard Station Compound.
The nearest motels are in Government Camp, OR (21 miles from start).
Parking
Parking is allowed off road on portions of Forest Service Road 42 (FS42) near the Clackamas Lake Historic Ranger Compound (Start/Finish).  Signs will be posted and volunteers will help direct you.  No parking is allowed on on either side of FS42 at the Pacific Crest Trailhead adjacent to Joe Graham Campground.  No parking is allowed on either side of FS 42 from the event entrance to Joe Graham Campground.
UTMB Qualifer
The Mt. Hood 50 Mile provides 4 points toward every race of the Ultra-Trail du Mont-Blanc®. The 50K is worth 2 points.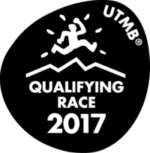 Miscellaneous
This event is located on the National Forest.
You will be running on a multi-use trail and horses may be encountered. Horses should be approached in a slow/calm manner for safety.
In accordance with Federal law and U.S. Department of Agriculture policy, this institution is prohibited from discriminating on the basis of race, color, national origin, sex, age or disability. To file a complaint of discrimination, write USDA, Director, Office of Civil Rights, Room 326-W, Whitten Building, 1400 Independence Avenue, SW, Washington, D.C. 20250-9410 or call (202) 720-5964 (voice and TDD). USDA is an equal opportunity provider and employer.