Oregon 200
A 200-Mile Trail Race Around the Diamond Peak &  Waldo Wilderness Areas in Oregon
You could say this 200-mile trail race was inspired by trail work. After helping out on the Middle Fork of the Willamette River a few years ago, we knew this area was special and that runners would love it and that we needed to create a trail race here. The Middle Fork trail alone is amazing enough, but why stop at a 50K when there is so much more to see and experience? We added in sections from the Oregon Timber Trail's Kalapooya and Bunchgrass sections alongside Summit and Timpanogas lakes, up and down the Eugene to Crest trail and Bunchgrass Ridge, and then a lap all the way around Waldo Lake, with a finish line back in the town of Oakridge, to create an amazing 200-mile race. We present an adventure that will take you around the Diamond Peak Wilderness, across a dam, and through the Deschutes and Willamette National Forests. This race has 33,000′ of gain and 37,000′ of loss, with 15 aid stations to support you along the way.
Oregon 200 Dates & Location
This race is pending permit approval for 2023. The 2022 permit was denied by the Forest Service due to resource and capacity issues related to all the fire rehab work.
August 24-29, 2023
Bib pickup: Thursday, August 24, 1:00-4:00 p.m., Greenwaters Park, Oakridge, Oregon
Mandatory race briefing: August 24, 4:00-5:00 p.m., Greenwaters Park amphitheater
Race start: Friday, August 25, 6:00 a.m., Junction Sno-Park, near Crescent Lake, Oregon
Race finish: Tuesday, August 29, 7:00 a.m., Greenwaters Park
Awards Ceremony & Breakfast: Tuesday, August 29, 7:00 a.m., Greenwaters Park amphitheater
Registration
Registration will open after the permit is approved. Sign up here to receive an email prior to registration starting. 
$TBA
Race is capped at 150 runners this year. A wait list is activated when the race fills.
Optional shirts/merchandise are available for purchase during registration.
Please note that there are no transfers to other runners and no refunds. If you need to cancel your registration and it's more than 30 days prior to the race, you will receive a 50% credit toward a future Go Beyond Racing race. If your cancellation is 30 days or less from race day, there is no credit. By registering, you agree to this Cancellation Policy.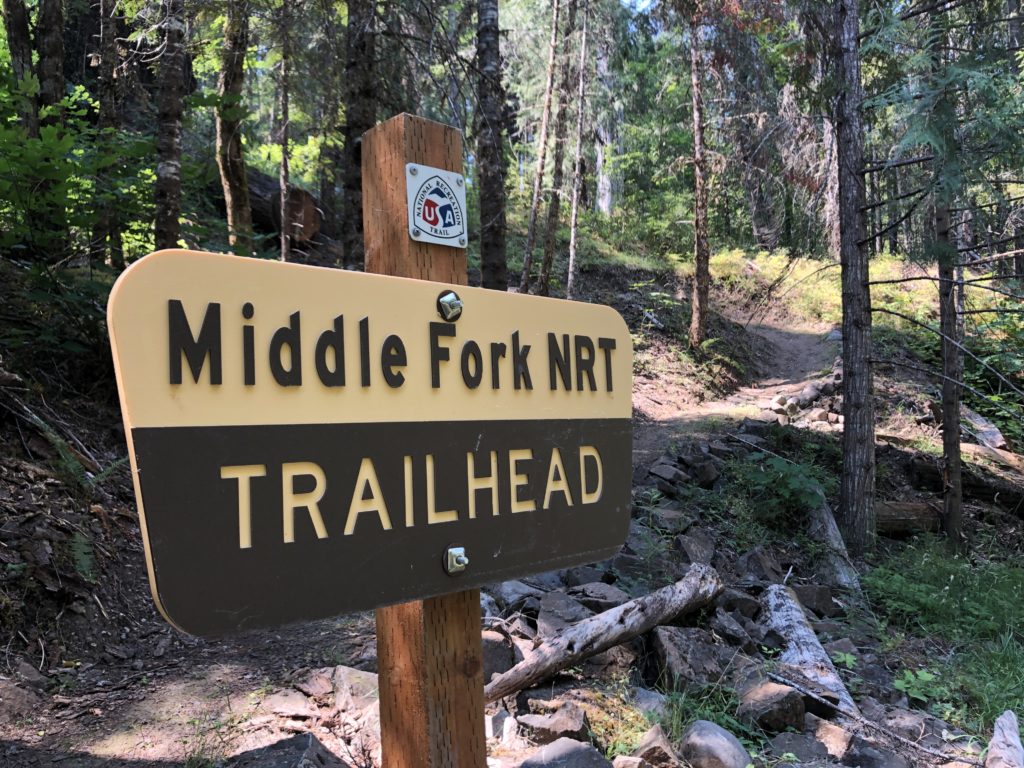 200-Mile Course Information
For a thorough course description, visit the Course page.
This race is mostly single-track, and sweet single-track at that. We're talking almost 200 miles of riverside, lakeside, forest-bathing, dirt trail. You climb 33,000 feet and descent 37,000.
Single track: 80%
Double track/dirt road: 8%
Gravel road: 3%
Paved road: 7%
Other: 2%
There are 15 fully-stocked and manned aid stations and six sleep stations. The furthest you'll go between aid station is just over 16 miles, and the shortest is 5. Eleven of the aid stations are crew-accessible.
Oakridge
Oakridge's Greenwaters Park is the home base for the race. Race headquarters is set up here. This is where bib pick up and the race briefing occurs, where the shuttle to the start line leaves from, where pacers sign a waiver and pick up their bib, it is an aid station, the finish line, and where the post-race awards celebration and breakfast occur. We recommend basing your race from Oakridge too. There are plenty of accommodation options and amenities (gas, food, grocery, etc).
Shuttle to Start
Runners can drive themselves and park at the start at Junction Sno Park, take a free 40-minute shuttle from Greenwaters Park, or have crew bring you to the start. We do not provide transportation from the finish line back to the start, so do not park your vehicle at Junction Sno Park unless you have a way to get back to it after your race.
The shuttle will leave Greenwaters Park at 5:00 a.m. on Saturday morning. This shuttle is for runners only; we cannot accommodate crew or spectators.
Crew
Crew is allowed and encouraged, but certainly not required. You can do this race on your own using the aid stations and your drop bags. It is a very crew-friendly course though, with access at 11 of the 15 aid stations. More information about Crew here.
Drop Bags
Drop bags are allowed at 10 aid stations along the course:
Summit Lake (mile 23.8)
Timpanogas 1 and 2 (miles 28.7 and 39.0)
Sacadanga (54.5)
Sand Prairie (70.7)
Oakridge (94.2)
Small Lake 1 and 2 (122.0 and 166.7)
Betty 1 and 2 (133.1 and 156.5)
You will drop off all of your drop bags during bib pickup on Thursday afternoon before the race meeting. Each drop bag must be labeled with your last name and bib number. Drop bags are returned to Greenwaters Park after each aid station shuts down.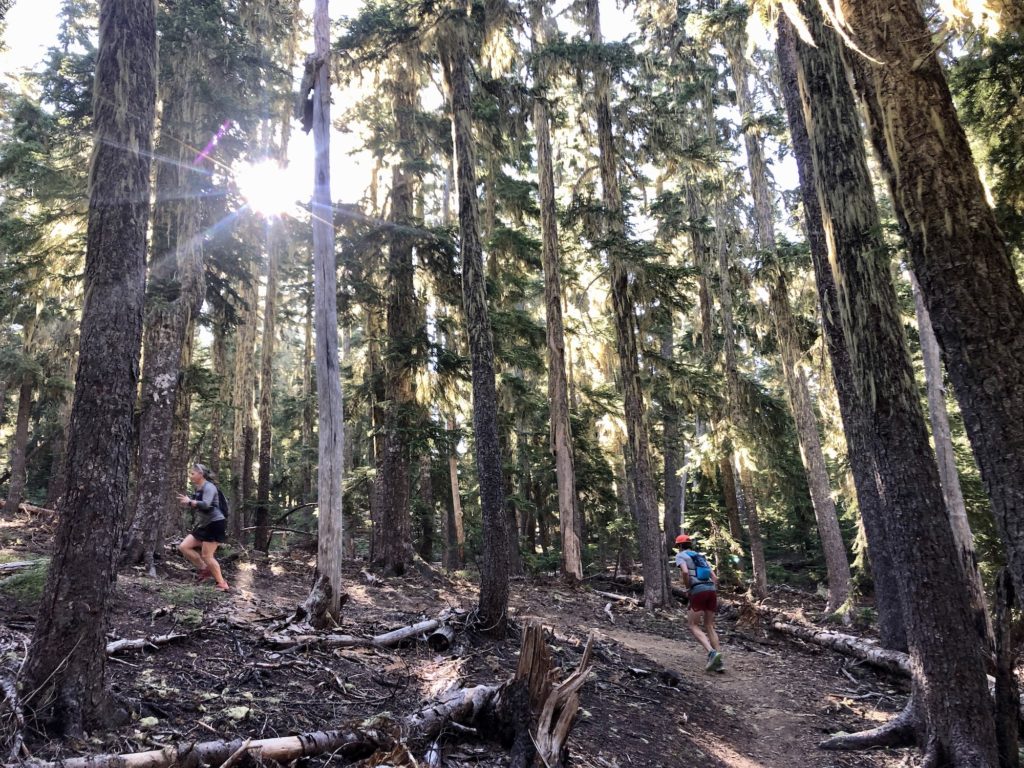 Pacers
Pacers are allowed and can join and leave you at any of the crew accessible aid stations starting at the Sacadanga aid station (mile 54.5). Runners can have more than one pacers for the race, but are allowed only one pacer on course at a time. Pacers must pick up a bib and sign a waiver at the Oakridge aid station. A pacer bib is required whenever a pacer is with you on course.
Pacers are responsible for their own transportation to and from the course. More information on Pacing is here.
Trail Work Requirement
Go Beyond Racing strongly believe that all of us should give back by volunteering to do trail work on a regular basis. For the Oregon 200, all racers must complete a total of eight (8) hours of trail work. The trail work doesn't need to be done before registering; just sometime after October 1 and before July 31. This required form is signed by the trail work site manager and emailed (to the address on the form) before the deadline. Entrants and waitlisters without the required trail work will forfeit their spot on August 2nd, and the next on the wait list is invited to take the spot.
We define trail work as maintenance of existing trails and development of new. The trails can be anywhere in the world. This report (to come) shows all current entrants and notes those who have completed all 8 hours. Waitlisters won't show on this report until they are actually in the race, even if you've submitted your hours.
Go Beyond Racing hosts several trail work events throughout the year – check our Events Calendar for those. We will also post opportunities we hear of in the Oregon 200 soon-to-be-launched Facebook Group.
Oregon 200 Tracking
All racers will carry a race-provided SPOT device, which will track their progress. You are required to use the device we provide; personal devices are not allowed as a substitute.
Every racer is also required to have the course map downloaded on a GPS device with them during the entire race, so that they can check that they are on course at any time. We recommend using Avenza maps and the Oakridge, Oregon Trail Map – 2020 on your phone (and carrying a charger in your pack).

Directions
The race starts at the Junction Sno Park in Crescent, Oregon. Runners can park their cars here for the entirety of the race, or can take a shuttle from the Finish at Greenwaters Park, in Oakridge.
Driving directions to the start (Junction Sno Park)
Driving directions to the finish (Greenwaters Park)
Lodging
There are numerous lodging opportunities in Oakridge and campgrounds all over the course.
A list hotels to come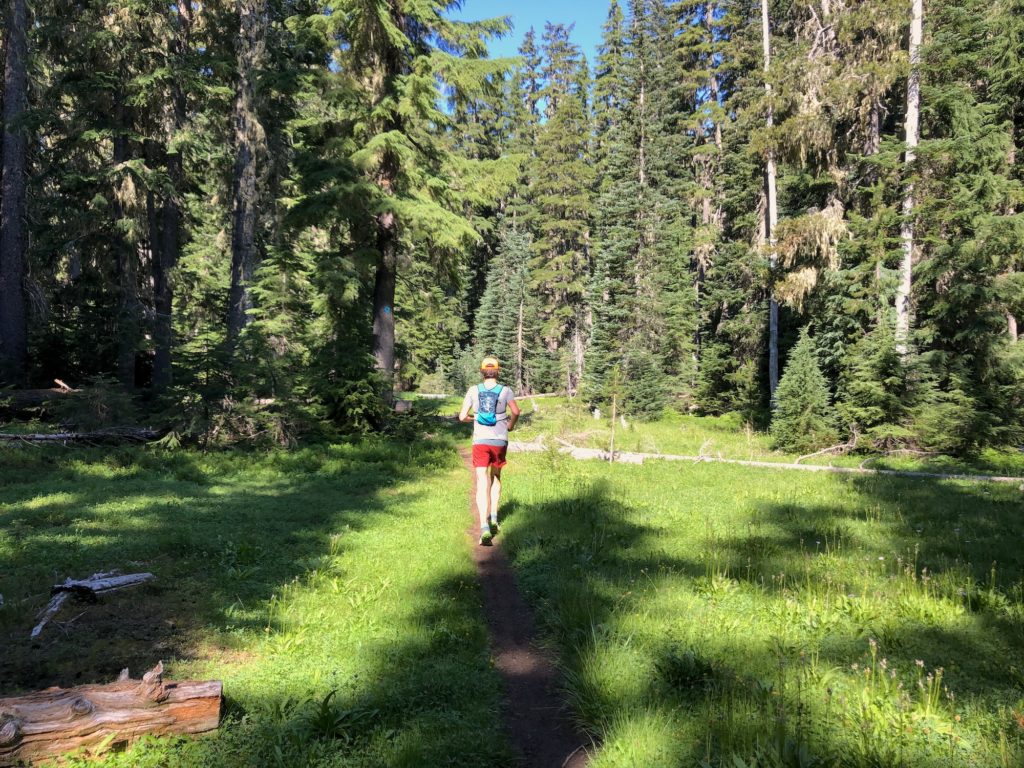 Beneficiary
The Oregon 200 beneficiary is the organization that inspired much of it; the Oregon Timber Trail Alliance. This non-profit created the Oregon Timber Trail mountain bike route through the entire state of Oregon. Since launching in 2015, it's also developed additional routes throughout Oregon and contributes hundreds of hours every year to trail building and maintenance. The OTT is dedicated to stewardship, education, community, and quality trail experiences throughout the Oregon Timber Trail corridor. We've personally worked shoulder-to-shoulder and shovel-to-shovel, and shared some miles and cold ones with this organization over the years and are thrilled to support their efforts and cause.
Community
There is a Facebook Page where you can stay current on happenings related to the race. We will also have a Facebook Group where you can connect and interact with others racers and volunteers.
We acknowledge that this race occurs on the traditional homelands of the Molalla Tribe, the Confederated Tribes of the Siletz and the Confederated Tribes of the Grand Ronde, Klamath Tribe, Kalapuya Tribe, Yoncalla Tribe, and the Winefelly Tribe.