Race Details
Welcome to the Smith Rock race you've heard about!
The Smith Rock Ascent race is so popular, and it is easy to see why. You get to spend the weekend at one of the most scenic places in Oregon – Smith Rock State Park. The event has a 50K and 15-Mile. There is a free kids races too. The trails in and around the state park provide stunning views of the rock faces, as well as vistas of the Three Sisters and Mt. Jefferson. You'll get up high in each race. This race is a treat for your eyes, and for your legs.
The races are now in March April. Due to the [over]popularity of the state park, events like ours are no longer an option from after April to October.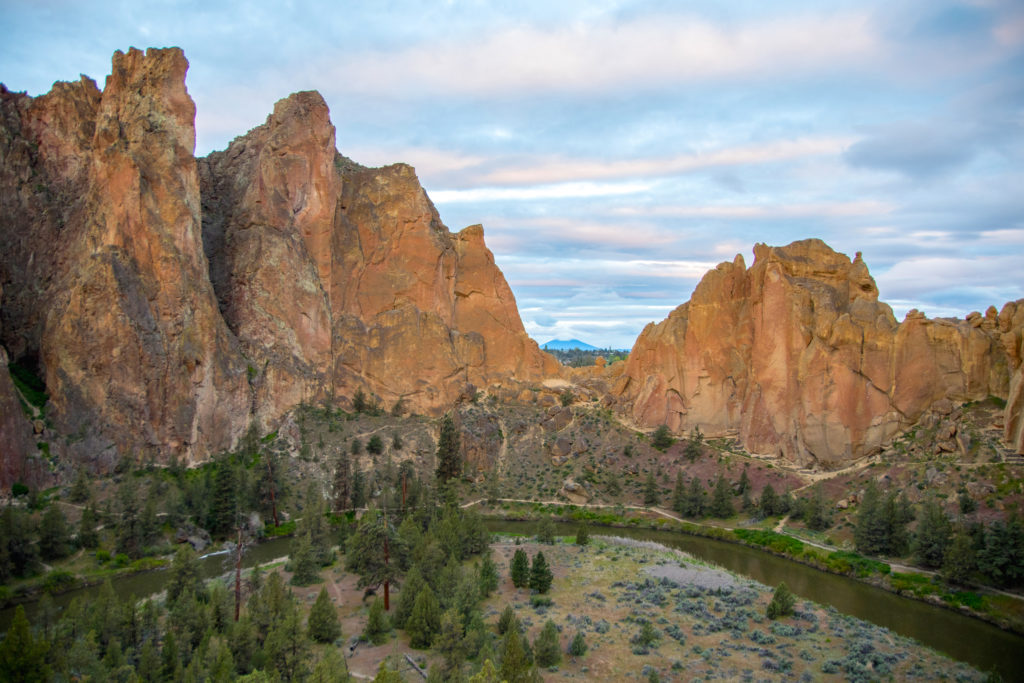 Registration
50K:
$100 (Oct 1 – 31, 2022)
$115 (Nov 1 – Dec 31)
$125 (Jan 1 – Mar 31, 2023)
$135 (Day-of-Race, if spots available)
15 Mile:
$80 (Oct 1 – 31, 2022)
$95 (Nov 1 – Dec 31)
$105 (Jan 1 – Mar 31, 2023)
$115 (Day-of-Race, if spots available)
NEW 7.5 Mile:
$60 (Oct 1 – 31, 2022)
$75 (Nov 1 – Dec 31)
$85 (Jan 1 – Mar 4, 2023)
$95 (Day-of-Race, if spots available)
4 Mile:
$40 (Oct 1 – 31, 2022)
$45 (Nov 1 – Dec 31)
$55 (Jan 1 – Mar 4, 2023)
$65 (Day-of-Race, if spots available)
Kids Fun Run:
Free – sign up at the race
This is for the littles. It's about a third of a mile in total distance.
You can order an optional race shirt/merchandise for extra during the registration process through March 1.
Please note that there are no transfers to other runners and no refunds. If you need to cancel your registration and it's more than 30 days prior to the race, you will receive a 50% credit toward a future Go Beyond Racing race. If your cancellation is 30 days or less from race day, there is no credit. By registering, you agree to this Cancellation Policy.
Do you want to race but can't afford the entry fee? We can help with our Trail Mix Fund.
NEW, New Schedule for 2023
Friday, April 7
Optional Bib Pickup: FootZone, Bend,  3:00-5:30 p.m.
Saturday, April 8, 2023 – 50K & 15-Miler
Start Location: Smith Rock State Park in Terrebonne, Oregon
Shuttles from Smith Rock Ranch 6:15-8:00 a.m.
Bib Pickup at Smith Rock State Park: 6:30-8:15 a.m.
50K start: 7:30 a.m.

15M start: 8:30 a.m.
Free Kids Race: 9:00 a.m.
Post-race party with Trailkeepers of Oregon: 4:00-8:00 p.m. at Cascade Lakes Brewing, Bend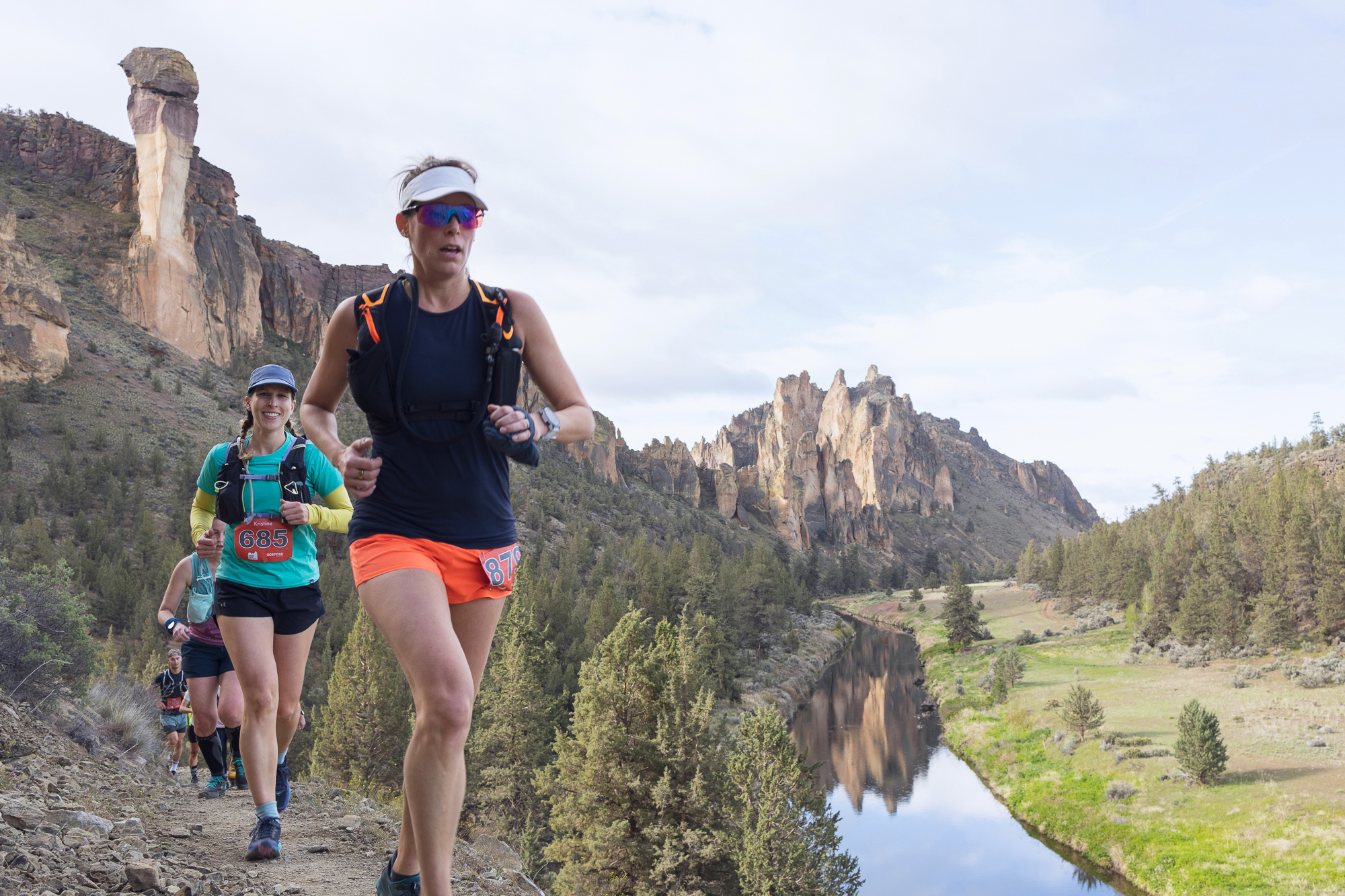 Parking & Shuttles
All racers must park off-site and take a shuttle to and from the race. Per our permit and due to very limited space, racers are not allowed to park at Smith Rock State Park. Runners can get dropped off at the park.
Parking is at Smith Rock Ranch (1250 NE Wilcox Ave, Terrebonne, OR 97760), just 1.5 miles from the race and less than a 5-minute shuttle ride. Parking is included in your registration. Two shuttles will loop between the ranch and the park in the morning before the race, and a shuttle will loop every 30 minutes from the park to the ranch in the afternoon.
There is a place at the start/finish are where you can leave a coat or small bag of clothes that you wear on the shuttle in the morning and/or that you'll want to put on after you finish (while enjoying the post-race food and drink) and before you head back on the shuttle.
We HIGHLY ENCOURAGE CARPOOLING!
If you are interested in carpooling, you can post here to find or give a ride. This is a Google spreadsheet that is viewable to anyone with the link, so only post what you want public. Carpooling earns you a Carpool Coaster too!
Aid Stations
The aid stations at this Smith Rock race will have the typical ultra fare: chips and cookies, candy, pretzels, pickles, fruit, GU gels, GU Hydration electrolyte drink, soda and water. Runners are welcome to carry their own food too. There is no aid station in the 7.5M or 4M races.
Go Beyond Racing is cupless. You'll need to bring your own cup for liquid aid at all aid stations.
Read more
about what it means to be cupless.
Bib Pickup
Bib pickup is at FootZone (842 NW Wall Street, Bend, Oregon 97701) on Friday, from 3:00 pm to 5:30 pm. You can also pick your bib up race morning at the start, beginning at 6:30 a.m. Runners are highly encouraged to pick up bibs at FootZone in order to reduce congestion and lines race morning. 
Post-Race Festivities
This is usually the best part of the race – hanging out after you finish, enjoying a beer, hard cider, or chocolate milk while you eat the best burrito you've ever had, as you cheer other racers across the finish line.
NEW: You can keep the party going as Trailkeepers of Oregon (the race beneficiary), Cascades Lakes Brewing, and Go Beyond Racing is hosting a post-post-race party at the Bend brewpub from 4:00 – 8:00 p.m. Saturday night. Stop in and grab a beer and dinner and earn raffle tickets for a free Go Beyond Racing race entry and more. Cascades Lakes Brewing is also donating 10% of the entire day's sales to Trailkeepers of Oregon!
Awards/Prizes
All finishers earn a Smith Rock Ascent pint glass. The top 3 men, women, and non-binary finishers receive prizes from our sponsors. We also have awards for 1st-3rd place age group (in 10-year age categories). There are plenty of great raffle prizes too.
Directions & Accommodations
Allow 3 hours from Portland or Salem. Directions to Smith Rock State Park from Portland are here.
Camping is available at Smith Rock State Park here. and nearby Skull Hollow Campground. Camping around the park is first-come, first-served and fills up quickly. Other nearby lodging options are here. Lodging options exist in Bend (30 minutes to start/finish) and in Redmond (15 minutes) and Madras (25 minutes).
Volunteers
We love volunteers and our racers do too! To make this race a success we need people to help at bib pickups, race start and finish, aid stations, and on the trail. You can sign up for the assignment you'd like on Ultrasignup. Click on the green Volunteer button with the heart.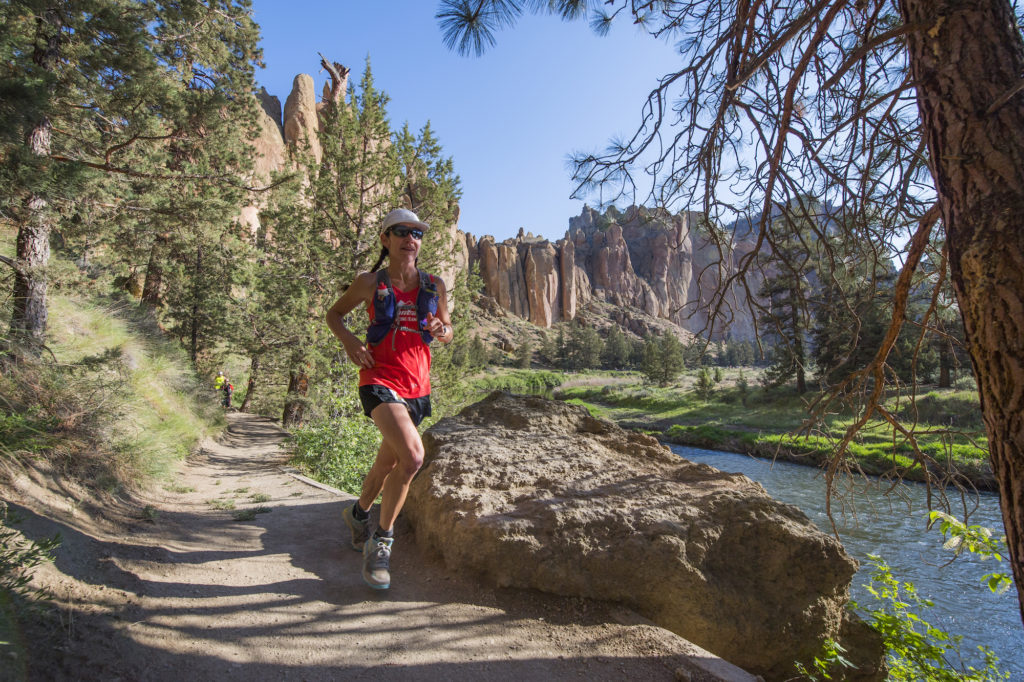 Community
We're all over social media and the trail running community is active:
Follow Smith Rock Ascent Facebook page
Follow Go Beyond Racing on Facebook
Get inspired with the Go Beyond Racing Instagram
Rules
We do have a few rules that apply to all Go Beyond Racing races. Be sure you are familiar with them.
Training
Need help getting ready for this Smith Rock race? Talk to our friends at Wy'east Wolfpack. They provide excellent coaching and training services.
We acknowledge that these races occur on the traditional homelands of the Confederated Tribes of the Warm Springs and the Tenino Tribe.