Race Details
We may be best known for our ultras, but we produce other fun trail races too. We're excited to bring you the Rogers Stubby Dog Wears a Crown in the Forest in this time of COVID. Who the heck is Roger and what is his stubby dog doing with a crown? We're not sure exactly, but this is a series of trail races at five different trails all within an hour of Portland; Rogers Camp, Stub Stewart State Park, Dog Mountain, Crown Zellerbach Trail, and Forest Park, and we thought a silly name for these odd times just made sense.
With these five short-ish races, all participants have a two month window of time to run the actual race courses and submit their results. Points are earned based on how you finish each race to create a Series score. There are awards for each individual race and Series awards too.
You can run one, two, three, four, or all five races. If you run at least three of the races, you are in the Series!
Just because it is shorter doesn't mean it is easy!
Rogers Stubby Dog Registration
You can sign up for races individually, or for the Series of five races all at once and save some money:
Rogers Camp $25
Stub Stewart $25
Dog Mountain $25
Crown Zellerbach $25
Forest Park $25
Series (all five races) $75
You can register anytime, but can only run the courses and submit results AFTER you register. If you've been financially affected by the pandemic and can't swing the registration fee right now, contact us and we'll get you set up.
Please note that there are no transfers to other runners and no refunds or cancellation credits.
Dates
October 15 – December 15, 2020
You have two months to complete all five races in Rogers Stubby Dog wears a Crown in the Forest, anytime between October 15th and December 15th. Get them all done right away or spread it out between the starting and ending dates. You can run the courses in any order.
Rogers Stubby Dog Courses
Rogers Camp, Stub Stewart State Park, Dog Mountain, Crown Zellerbach Trail, and Forest Park. Those are the places you will run. Because these are virtual races, there are no course markings. However, we provide a GPS track and turn-by-turn directions (some even with photos) to help you navigate each route. The Course page has all these details; here is an overview of each route:
Rogers Camp
The loop is 7.9 miles and is in the Tillamook Forest. It's a combination of single track and a little double track. There is 1400' of gain. You'll park and start and finish at the Rogers Camp trailhead off of Highway 8 in the Tillamook Forest.
Stub Stewart
Our first race ever as Go Beyond Racing was here at Stub Stewart State Park, near Vernonia. This route is 7.75 miles and involves 1400' of gain and loss and is a lollipop through the park's southern-most single track trails with a teeny section on the paved Banks-Vernonia trail.
Dog Mountain
Did you know we used to put on this race back in our early years? If you missed racing it then, here's your chance for a challenging climb that gives you some of the best views in the Gorge. This is your burliest race in the Series, with 2900' of climbing and descending on 7.5 mile loop in the Columbia River Gorge.
Crown Zellerbach
The only out-and-back route in the Series, you'll run 7.9 miles on this pretty flat (443′ gain) cruiser of a trail. You can expect to stretch your lungs and go fast, especially on the way back. The Crown Zellerbach is an old logging trail in Scappose.
Forest Park
The forest in the city is where this race is and is a lollipop format, barely. Almost more like a loop. You'll run on some firelane and single track with almost 840' of gain over 6.6 miles.
| COURSE | DISTANCE | ELEVATION GAIN |
| --- | --- | --- |
| Rogers Camp | 7.9 | 1400′ |
| Stub Stewart | 7.8 | 1400′ |
| Dog Mountain | 7.5 | 2900′ |
| Crown Zellerbach | 7.9 | 443′ |
| Forest Park | 6.6 | 840′ |
Timing
These races are all virtual which means you will time yourself using Strava or a Garmin Connect device. Right after each race, you will submit your result for verification (make sure it is made Public and not Private). You will have to use Strava or Garmin Connect for this race, we cannot accept manual entries, as we need to verify your submission.
Submit your result on the Results page after you complete each race. The final deadline for submissions is 11:59 p.m. on December 15th.
Scoring & Awards
We will award the first place female and male of each individual race, as well as the top three overall females and males in the Series with etched award pint glasses. All Series finishers will earn a finisher pint glass! To compete in the Series, you'll need to run at least three of the races (it doesn't matter which ones). Each race's results and the Series results are finalized and published after the Rogers Stubby Dog Wears a Crown in the Forest is complete (December 15th).
The final results are announced at our live virtual awards ceremony on Friday December 17th at 7:00 p.m. More details about this to come.
There are also raffle prizes that are randomly awarded during the virtual awards ceremony.
Series Calculations
The winner of a race receives 100 points. Every other racer receives points based on their time compared to the winner's.
For example, Amy wins the race in 46:00. Kelly finished in 1:02:00. Amy's score is 100 because she won. Kelly's score is 74.2. It is calculated by dividing the winner's time (46 minutes) by her time (62 minutes) and then multiplying the results by 100. So 46/62 x 100 = 74.2
Points are calculated separately for men and women. Men use the men's winning time, and women use the women's winning time to calculate points.
Your total Series score is the sum of your three highest race scores. If you run all five races, your two lowest scoring races are dropped. You are counted as a Series participant and your score will make you eligible for awards if you complete at least three races in the Series, whether you sign up for the Series or for at least three races individually.
Safety
Please continue to recognize that the Coronavirus pandemic is still happening and you need to maintain 6' distance from other trail users and wear a mask when you cannot. With that, we hope that you can safely run with a friend or two to make racing more fun. You do not need to run these routes by yourself. If you are looking to find others to run with, we invite you to use the races' Facebook page to arrange that.
Beneficiary
All Go Beyond Racing races have a beneficiary and the virtual races are no different. The Trailkeepers of Oregon is the beneficiary for Rogers Stubby Dog wears a Crown in the Forest.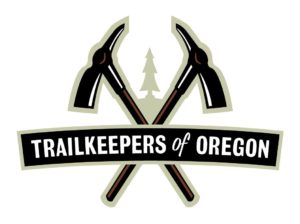 Trailkeepers of Oregon (TKO) is a non-profit organization whose mission is to protect and enhance the Oregon hiking experience through advocacy, stewardship, outreach and education. TKO organizes and leads trail advocacy efforts and volunteer trail maintenance activities. TKO is a 501(c)(3) nonprofit organization committed to trail stewardship, advocacy and education in Oregon.
Training
Need help getting ready for this or your next race? Talk to our friends at Wy'east Wolfpack. They provide excellent coaching and training services.
Rules
We do have a few rules that apply to all Go Beyond Racing races. Be sure you are familiar with them even though some aren't applicable in this virtual race world.
Join the Community
There is a race page on Facebook where we'll share good stuff. You can follow Go Beyond Racing on Instagram to stay inspired. It'd be fantastic if everyone were sharing photos of the runs on Instagram and hashtagging the race #rogersstubbydog.
If you are on Strava, you should join the race's Rogers Stubby Dog Strava Club. It's free and you can see how your fellow racers are running in their training and even when they run the courses.
We acknowledge that these races occur on the traditional homelands of the Kalapuya, Clatskanie, Atfalati, Tillamook, Cowlitz, Clackamas, and Yakama Tribes.