Race Details
The Smith Rock Half Marathon & 10K Race is Retired. Check out the Bend Marathon as an excellent alternative.
This road race features two popular distances that provide amazing views of the Cascade mountains, the sheer rock faces at Smith Rock State Park, and the unique beauty of the area. The Smith Rock half marathon and 10K courses are relatively fast with minimal elevation change. And the race is on Mother's Day, so it's a perfect way to celebrate with mom!
Registration
Half Marathon:
$50 (10/1 – 10/15)
$70 (10/16 – 11/30)
$80 (12/1 – 5/7)
$90 (Day of Race)
10K:
$35 (10/1 – 10/15)
$50 (10/16 – 11/30)
$60 (12/1 – 5/7)
$70 (Day of Race)
You can order an optional race shirt during registration.  All shirts must be ordered by March 31.
Online registration closes midnight on May 7th. You can register at the race.
Please note that transfers to other runners or refunds are not allowed. See our cancellation policy.
Date/Time
May 13, 2018
Smith Rock State Park in Terrebonne, Oregon.
Bib Pickup: FootZone, Bend, Friday May 11, 4:00-7:00 pm
Parking Opens at Smith Rock Ranch: 5:30 am
Shuttles from Smith Rock Ranch: 5:45-6:30 am
Day of Registration & Bib Pickup: 6:00-6:45 am
10K Start: 7:00 am
Half Marathon Start: 7:00 am
Courses close: 10:00 am
Return Shuttle to Smith Rock Ranch: 8:00-10:30 am

Parking
ALL RACERS WILL PARK OFF-SITE at the Smith Rock Ranch (1250 NE Wilcox Ave, Terrebonne) and take a shuttle to the race. Smith Rock Ranch is just one mile away from the race. There is a $5 parking fee; please bring cash. You can purchase your parking pass during bib pickup at FootZone on Friday to make race morning smoother.
Shuttle buses will run from the Smith Rock Ranch from 5:45 am to 6:30 am. Don't be late!
The post-race shuttle will run from 8:00-10:30 am.
There is a place for you to drop your jacket/clothes off at the start.
All Smith Rock race volunteers and spectators parking at Smith Rock State Park must have a valid day use OPRD parking permit. These are for sale on site for $5.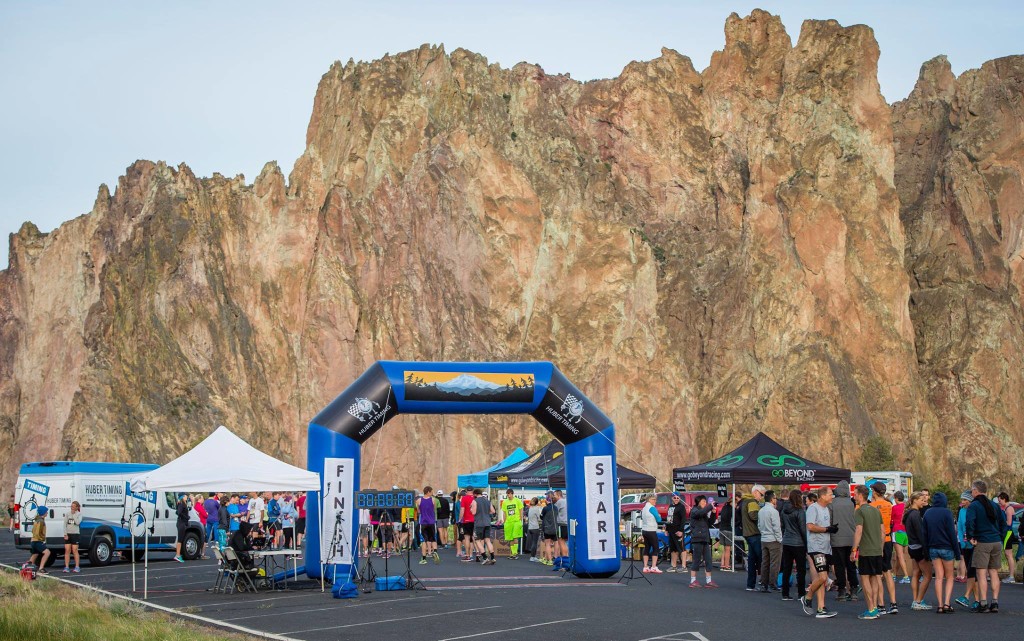 Bib Pickup
Bib pickup is at FootZone (842 NW Wall Street, Bend, Oregon 97701) on Friday, May 11 from 4:00 pm to 7:00 pm. You can also pick your bib up race morning at the race start, beginning at 6:00 am
Awards/Prizes
The top 3 male and female finishers for each distance will receive special awards and products from our sponsors. All finishers will receive a sweet medal. We give awards 3-deep in each age group (19 and under, 20-24, 25-29, 30-34, 35-39, 40-44, 45-49, 50-54, 55-59, 60-64, 65-69, 70+)
Walkers & Strollers
Both are allowed in this race. The course closes at 10:00 am so all runners, walkers, and strollers will need to finish by then.
Directions & Accommodations
Allow 3 hours drive time from Portland or Salem.
Directions to Smith Rock State Park from Portland can be found here.
Camping is available at Smith Rock State Park here. Multiple lodging options exist in Terrebonne, Bend (30 minutes to start/finish), Redmond (15 minutes) and Madras (25 minutes).
See how beautiful the park is with the Smith Rock Webcam here.
Rules
We do have a few rules that apply to all Go Beyond Racing races. Be sure you are familiar with them.
Social Media
Play along on our Smith Rock Road Facebook page
Volunteer
If you'd like to volunteer for the road races on Sunday, or the trail race the day before, you can choose the position that works for you best here: volunteer
Are you looking for the Smith Rock Ascent trail races? They are happening the day before the Smith Rock Half Marathon & 10K.