Race Details
Wildwood E2E Virtual Race
The Wildwood trail is an iconic trail, consisting of 30.25 of miles of single track in Portland's Forest Park. Running the whole thing is like a right of passage in the Pacific NW trail running community. We are excited to bring you a virtual race where you will run the Wildwood trail from end-to-end; the Wildwood E2E.
Participants run on the actual Wildwood trail. You can run the full distance all at once (One Go), or you can break it into sections and complete this close-enough-to-be-called-a-50K over the course of four weeks (Cumulative). You also get to choose if you want to do it on your own, running it in the solo category. Or you could decide that it's better with friends and form a team of up to five runners, each completing a section(s) of the trail so that the team together covers the entire Wildwood trail.
If you don't live around Forest Park and can't actually run on the Wildwood trail, but still want to be a part of the race, you can choose the really virtual category (On My Own Trail). With this, you will run 30.25 miles wherever you can in that same four-week period.
Race Dates
October 15 – November 15 2020
The race was rescheduled because of a trail closure. The new dates are one month later than the original plan. The race starts October 15th and finishes on November 15th. For those who are in the One Go category, you can pick any day in that time period to race the entire course. If you are in the Cumulative or Team or On My Own Trail category, you can start any time after 6:00 a.m. on the 15th and run as many times as you want or need until midnight on November 15th.
Please, wear a mask when passing others and announce yourself in advance so that other park users can mask up and/or step aside. Since you have two weeks to complete this, try to run when the park is less crowded so that you have a more enjoyable experience.
Wildwood E2E Registration
IMPORTANT: Be sure to select your category carefully when signing up. It is difficult to move you to another category if you accidentally select the wrong one.
$50 per person
Solo-One Go — You are running the whole distance, on the Wildwood trail, in one attempt, by yourself.
Solo-Cumulative — You are running the whole distance, on the Wildwood trail, in as many runs as it takes during the race period, by yourself.
Team-Women Cumulative — Up to five women are running the whole Wildwood trail, but divided up between the team as you want. Every inch of the trail will be run over the duration of the race.
Team-Men Cumulative — Up to five men are running the whole Wildwood trail, but divided up between the team as you want. Every inch of the trail will be run over the course of the race.
Team-Coed Cumulative — Up to five people, with at least two women, are running the whole Wildwood trail, but divided up between the team as you want. Every inch of the trail will be run over the duration of the race.
Solo-On My Own Trail — You don't live near or can't run on the actual Wildwood trail, but you want to run 30.25 miles all at once somewhere else.
Team-On My Own Trail— You don't live near or can't run on the actual Wildwood trail, but you want to race anyway. Up to five people, with at least two women, will run 30.25 miles combined, over the duration of the race.
If you are registering as part of a team, the captain needs to register first and create the team name. After the captain registers, the rest of the team can sign up and will add themselves to their team via a drop-down menu of team names. Know your team name before registering; do not just randomly choose a team to join.
Registration is open through November 5th. You can register after the start date of October 15th, but can only include runs after the date you register.
If you are financially impacted by the pandemic and would like to race but can't spare the registration fee, please contact us and we'll get you set up.
There are no transfers to other runners, and no credits or refunds are given if you decide you cannot run the race.
Recording Your Time
All racers will need to use Strava or Garmin Connect to record and submit their results. All results must be uploaded by midnight on November 15th to count; no late submissions are allowed. Period. It is best to submit your result after (each) your run. Submit your result(s) via the button on the Results page or respond to the text you will receive from Huber Timing. If you are racing in the Cumulative category, only record your miles on the Wildwood – do not record mileage getting to/from the Wildwood trail.
We've used this method of recording and submitting run times for some of our other virtual races, and it is very easy. Remember though, that both Strava and Garmin watches use GPS signals to record distance. GPS accuracy in Forest Park is horrible. You will very likely see fewer than 30.75 miles on your device. But don't worry, because that doesn't matter. We know the distance of the course and will just use your elapsed time to determine your placing.
Elapsed time is what counts, not moving time. The difference is that moving time is when you're actually moving. So if you stop to tie a shoe, chat with someone you run into, or have a crew stop, your moving time stops and then starts up again when you begin running again. Since we're treating this like a real race, the race clock doesn't stop when you do. You need to start your device when you begin and stop it when you are done, and all the time in between there, whether you were moving or not, counts. Do not pause your watch during your run.
We will validate everyone's routes via the activity link submitted. If you didn't complete a portion of the trail or your activity link seems funky, we will contact you to discuss.
Wildwood E2E Course
Did you know that the Wildwood trail is a National Recreation Trail? The race begins at the far north end, at the Newberry trailhead and finishes at the sign near the Veteran's Memorial/Zoo. You must run the route this direction (north to south). Because this is a virtual event that spans four weeks, the course is not marked by us. Instead, you get to follow the blue diamonds that are painted on trees every quarter of a mile along the Wildwood trail. When you see a diamond look up to see a small wooden sign indicating your mileage on the trail. Zero is at the zoo, where you finish, so you'll be seeing how many miles you have left to go. There are many trail junctions and crossings, but all are well-signed.
Note there is a detour currently in place between 14.2 and 15.4 on the trail. Please follow the signs and take the detour. It adds 0.1 mile. You will be travel against the three one-way social loops in the park. The direction of travel on Wildwood in two of these loops changed on October 9th, so now they go against our course. Be courteous while on these sections.
Crew
There are no aid stations; you will need to carry all your own nutrition and water and pack out all your trash. However, crew is allowed. There are nine trailheads that access Wildwood that someone can use to provide you support along the way. Get some friends or family members to crew you by meeting you at one or more of these trail junctions. These access areas are identified on the course map by the letter A. Vehicles can park there and your crew can access the Wildwood trail, usually by a short walk to the junction. There is decent cell and data coverage so you can be in contact with your crew if needed.
Trailheads for access:
Newberry Road – start
Newton (mile 4.7)
Germantown (mile 5.5)
Springville (mile 7.8, 0.75 mile walk to junction)
Saltzman (mile 14.3, 1.0 mile walk to junction)
53rd Drive (mile 21)
Wild Cherry (mile 22.5)
Birch (mile 22.8)
Upper Macleay (mile 25.3)
Pittock Mansion parking lot (mile 26.5)
Veteran's Memorial parking lot – finish
Teams
Team members can run their sections anytime during the four weeks. The course doesn't have to be done in sequential order of the trail, meaning team member #1 could run from Saltzman to Birch on day one and team member #2 runs from Newberry to Saltzman two days later, and team member #3 covers Birch to the finish four days after that. A team just has to cover every inch of the trail, using up to five people to get it done, at the same time or apart. Do it relay style or chunk it up and divide it between team members how it works best for your team.
Teams can be all male, all female, or coed.  A coed team has to have at least two women.
Awards & Merchandise
This is a virtual race, but there's a competitive spirit to it, because… PRIZES. Every runner who completes what they sign up for earns a wooden finisher coaster/medal. Whether you hang this with your other medals, or use it as a coaster, you are going to want one of these to commemorate this crazy weird race season and your crazy good accomplishment.
In addition, the top three men and women finishers in the Solo One Go and the Solo Cumulative  and the Solo On My Own categories, and the top three fastest teams in each category earn special etched award pint glasses. And we have a bunch of raffle prizes!
There are shirts and prints available to purchase when you register. These are pre-orders, and will ship to you at the completion of the race. If you didn't order  a shirt during registration, it's not too late! You can order one through our online shop (shirts ordered this way also ship at the end of the race).
Territory Run shirts $25
Crew-style sweatshirt $40
Katie Reim Blue Diamond/Forest Park print $38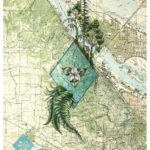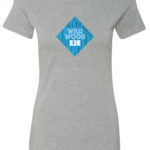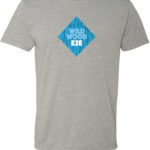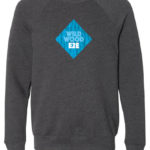 Beneficiary
You probably guessed that the Forest Park Conservancy would be the beneficiary of this race. Yes, we do donate to the Conservancy for many of our events, but it does such great work to keep the trails maintained in Forest Park, and like many non-profits right now, thanks to the pandemic, donations are down.
Social
Of course there's a Facebook page for the race where we will share information. Like or follow if you are a Facebook user. Wildwood E2E Facebook
We also have a Strava Club for the race. Join the club and see how your fellow racers are training and racing.
We acknowledge that this race occurs on the traditional homelands of the Cowlitz, Clackamas, Atfalai, and Kalapuya Tribes.