50K
You are in for a real treat if you like single-track trail, crossing bridges, running through old-growth forests, ascending and descending mostly short, moderate climbs – all along an emerald green river. Ninety percent is single-track trails. You will run less than a mile of pavement.
The course has 5,700 feet of gain. The start is near the Masters Bridge and the finish is at Lemolo Lake Resort.
Course Map & Description
The 100K/50K course map is available as a downloadable PDF. Click the image below for the full map. NOTE: This is the 2016 course map. The 2017 50K course is the same, except that aid station #3 is now called Dread & Terror instead of Road 710, and the final aid station is moved 2.5 miles further toward the finish and is called Canal. The descriptions below are accurate, but the map images show the 2016 aid station locations.
The map is also available as a 5-page, 8.5×11 PDF. The 50K starts on page 3.
The BLM also has an interactive site that explains the different trail segments.
Start to Aid Station 1 (Medicine Creek)
Immediately after the start, a short, but steep climb awaits. In this section, you will run along an old roadbed, into Dark Canyon, through a forest of Douglas-fir and big-leaf maple, and below the volcanic remnants of Eagle Rock and Old Man Rock. You will pass several side trails. About 2 miles from the aid station at Soda Springs Trailhead, you make a sharp left and pass under a water viaduct (be sure to lower your head!) and climb a steep section of trail with views of the Soda Springs Dam and Reservoir below.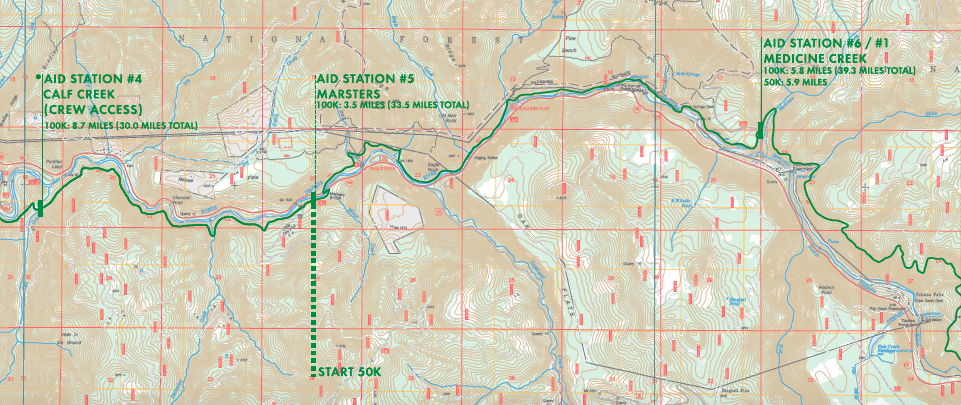 Aid Station 1 to Aid Station 2 (Toketee Lake Campground)
You immediately drop down and then ascend ~800ft in less than 1.5 miles before hitting some really nice single-track trail with great views. Next is a slight descent to the paved road for ~1/4 mile, arriving at Toketee Lake Campground aid station.
Aid Station 2 to Aid Station 3 (new name: Dread & Terror)
Just after the aid station, you pass over the North Umpqua River and turn left, following the river. About 1.7 miles into this segment, you hit a gravel road (Road 3401). You will run along this dirt/gravel road for 1.5 miles before meeting the trail again at the Hot Springs Trailhead. This is the longest stretch of road you will run on. This needed to happen as a bridge crossing on the North Umpqua Trail at Deer Creek is washed out. After the Hot Springs Trailhead you enter into the "Dread and Terror" section for the North Umpqua Trail – named by two rangers in 1908 – in reference to the disagreeable possibility of fighting forest fires in the impenetrable thickets of white thorn brush in the area and the steep canyon. You will pass Surprise and Columnar Falls and other unique forms of flowing water.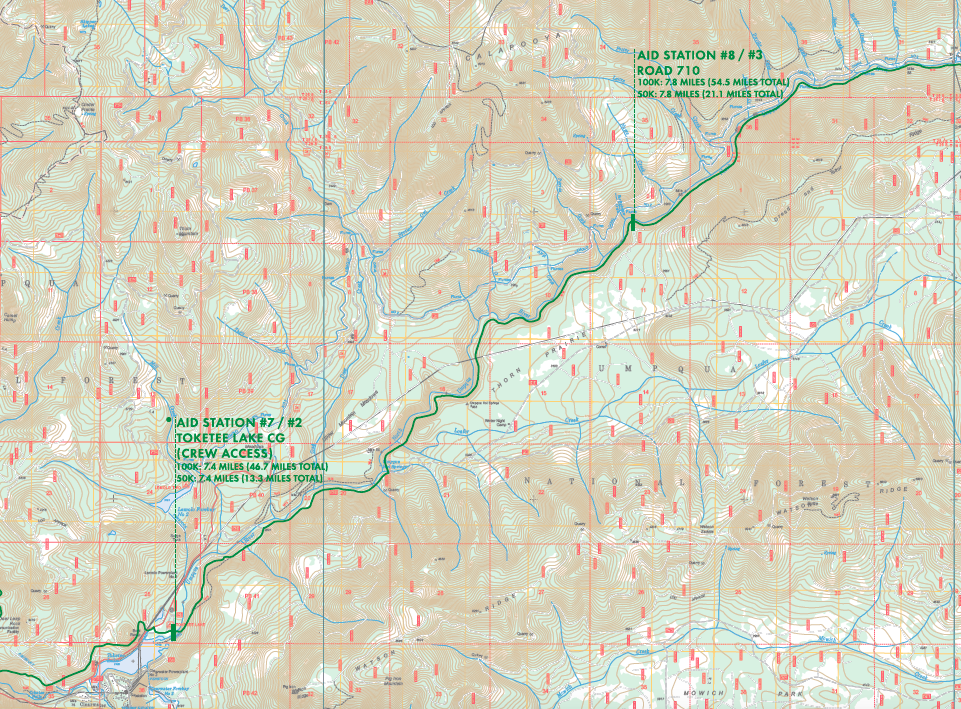 Aid Station 3 to Aid Station 4 (new name: Canal)
You continue following the river in the narrow canyon slowly gaining elevation. There are a few steep and longer climbs a couple miles out from the aid station, the last being immediately before crossing the North Umpqua River for the last time on a bridge. The climb is steep. Be prepared. It will surprise you. The trail then follows the river before climbing slightly to White Mule/Lemolo Falls Trailhead at Road 2610.
Aid Station 4 to Finish
You will cross over the road and run a short section of trail (~.75 miles) before hitting a 200 meter x-country section. You will then drop onto Road 2610, crossing Lemolo Lake Dam, climb a short, steep hill and then finally turning into Lemolo Lake Resort and the FINISH at the lake's edge.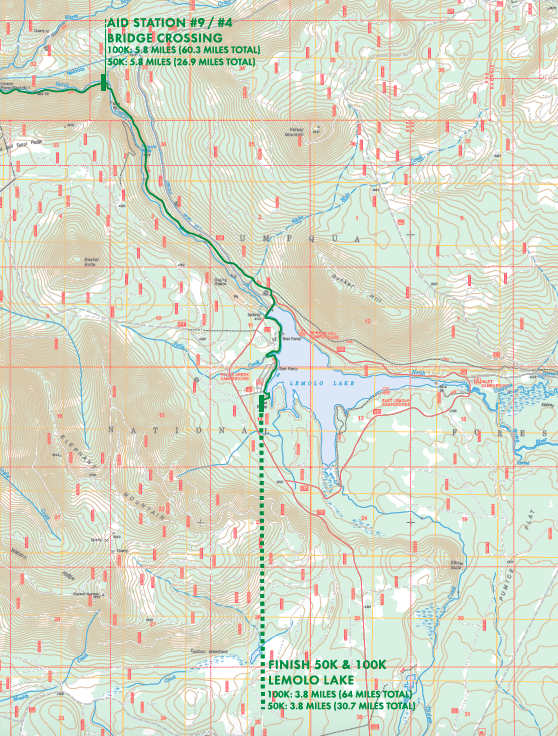 Elevation Profile
The 50K has 5,700′ of elevation gain. The 50K starts at aid station 5 on this profile.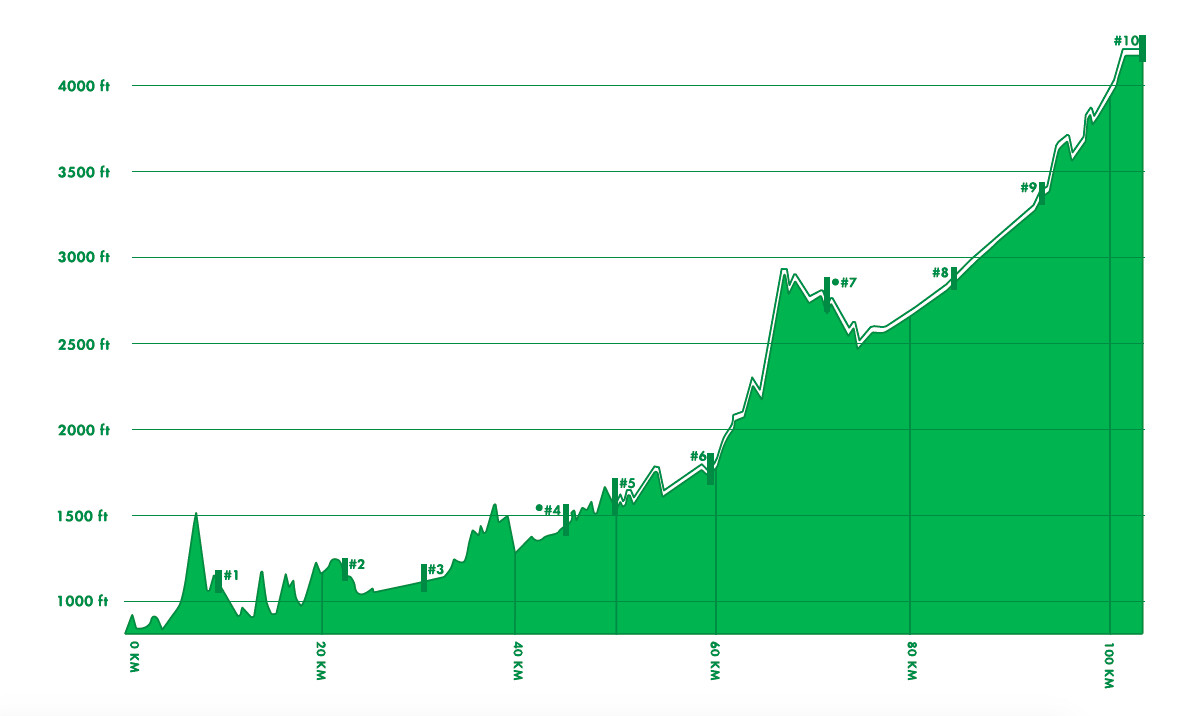 Aid Stations
There are four aid stations along the course. Aid stations offer your typical ultra fare: PB&J, crackers and cookies, pretzels, pickles, fruit, GU gels, Glukos energy drink, soda, and water. Runners are welcome to carry their own food too.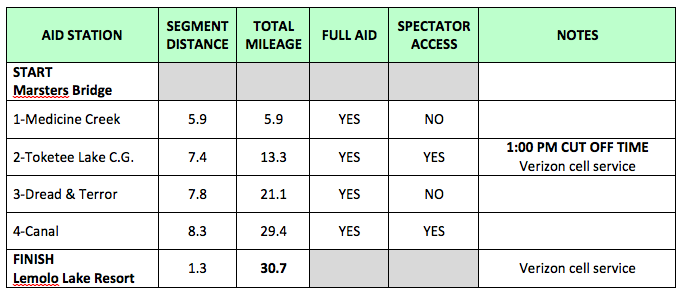 Cutoff
There is a 1:00 p.m. cutoff at Aid Station #2 (Toketee Lake Campground, mile 13.3). Runners who do not depart prior to 1:00 p.m. are not allowed to continue.
Crew & Pacers
There is crew access at Toketee Lake Campground and the Canal aid stations. There is no crew access at any other location on the course. Crews accessing their runners elsewhere, and runners accepting aid from crew elsewhere will be disqualified.
Pacers are not allowed.
Directions To Aid Station 2 (Toketee Lake Campground – Mile 13.3)
Drop Bags
There are no drop bags for this race.
Shuttle to Start
The 50K start is near Marsters Bridge. There is NO parking at the start for runners or crew due to limited space.
UPDATE: Due to forest fires in the area (not on the course), the shuttle from Dry Creek Store to the 50K start is cancelled. Fire fighters are using the Dry Creek Store area as a base of operation. All 50K runners will need to park at Lemolo Lake Resort and take that shuttle to the race start. The shuttle is not returning to Lemolo Lake Resort, so this is for racers only (no spectators).

Optionally, runners can be dropped off at the start. There is no parking at the start, but cars can temporarily pull off on the NORTH side of Hwy 138 to let runners out of vehicles. Do not park, even temporarily, on the south side of the highway. Please be careful of people crossing the road.
There is no shuttle from the finish.
Directions
Directions to Lemolo Lake Resort/Finish from Portland, Ashland and Bend
Directions to Umpqua's Last Resort from Portland, Ashland and Bend