Monday, December 6, 2021
---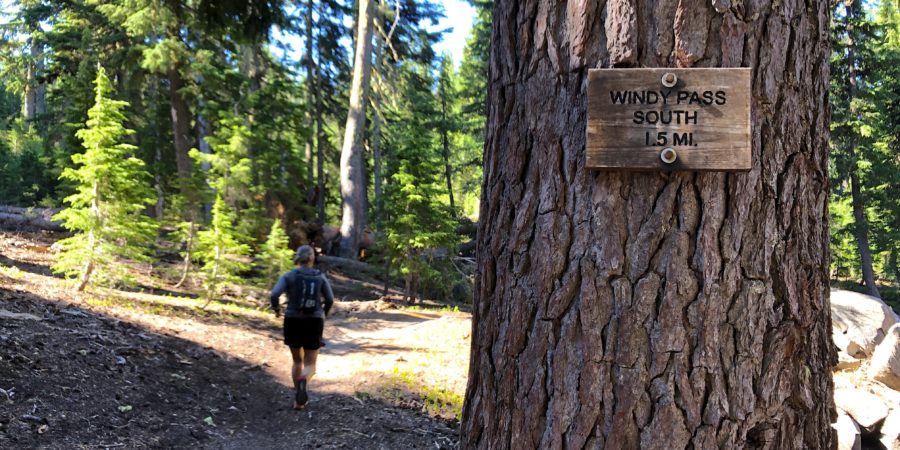 Go Beyond Racing is excited to share more news about our newest race, a very long race, the Oregon 200. Before we go any farther, you should know we didn't set out to create a 200-mile race. In fact, we tried to avoid making this race 200-miles long. We've thought about adding a longer-than-100-but-less-than-200 race to our offerings for a while, to give runners an opportunity to go farther, but not quite that far.
Orgin Story
During the pandemic, yes, this is another good thing that came out of that down time (the other being the Trail Mix Fund), we played a lot with maps and explored new places. One part of the state where we hadn't spent a lot of time before was in the Willamette National Forest around Oakridge, and especially around the Middle Fork of the Willamette River. Our introduction to this area came in 2019, when we joined a friend from the Oregon Timber Trail to do some saw work on a new trail that was getting built there, but we hadn't really been back.
Ever since the launch of the Oregon Timber Trail (a bike route that goes from Oregon's southern border all the way to the northern border), we'd been interested in using some of that route for a race. So with that as our starting point, we spent time on-foot and on-bike exploring that area, the Kalapooya and Bunchgrass sections of the OTT, as well as some of the nearby trails. We really wanted to incorporate more single track than the OTT offered, and we found it.
170 to 200 Miles
After many discussions with trail organizations and land and venue managers, and conversations with really-long-distance runners about what they liked and didn't like about these longer races, we came up with a 170-mile point-to-point route that we were really pleased with. It featured many mountain lakes and the entire Middle Fork trail, as well as taking runners around Waldo Lake for the finish. But, as with most places where we want to host races, vehicle parking is a big challenge, so we decided to move our finish line from Waldo Lake to Oakridge and make that the hub of the event. And then this summer a fire burned a part of the Eugene to Crest trail and closed that section of forest. So… we came up with a reroute, and our course is now a 200-mile race! Other than the loss of the section that burned, we think this inaugural course is better than our initial plan and we're eager to show you.
Labor Day Weekend Race
This race is over the Labor Day weekend in 2022. This first year is limited to 150 runners and there are no pre-requisites. We do expect it will sell out. We anticipate it will take the first finisher about 47 hours and there is a 97-hour finish line cutoff. The course is very crew-friendly so family and friends can join in on the adventure, but it is set up to fully support runners choosing to make it a solo effort.
Oakridge is the Hub
The Oregon 200 course shows off the area around the Diamond Peak and the Waldo wildnernesses (is that's even a word?), is 80% single-track trail, has 15 fully-stocked aid stations, as well as highlights the mountain biking town of Oakridge, Oregon. Racers will start at the Junction Sno Park near Crescent Lake and run along the Metolius-Windigo trail, zig-zaging past Crescent and Summit Lakes to Timpanogas Lake and south toward Cowhorn Mountain. Finishing the loop back to Timpanogas, you'll round the teeny but stunning Indigo Lake and then onto the Middle Fork National Recreation Trail to Hills Creek Reservoir. Then you cross a dam and head up toward Larrison Rock before dropping down into Oakridge. Here racers have a fire detour to get onto the Eugene to Crest trail up to Bunchgrass Ridge, and toward Fuji Mountain. From there, it's the Gold Lake and then Bobby and Betty Lake trails to get to Waldo Lake, where you run all the way around before heading back. On the return trip, you take the Mt. Ray trail to a really neat plateau before rejoining the same route you took on the Bunchgrass Ridge back to Oakridge and the finish line. The race website has a good aid station to aid station descriptions. You can get to the full course map and see the elevation profile on the race website.
The permit application is in, but not yet approved. That means that we do not yet have permission from the Forest Service to hold this race. We took a chance announcing it before we had the actual Forest Service permit, but we feel good about the event and know that people need to start planning for a 200-mile race now. We are excited about the partnership and arrangements we have with the city of Oakridge, the relationships with the Oregon Timber Trail (the race beneficiary), Sport Oregon, the Eugene, Coast & Cascades Sports Commission, and with the US Forest Service – Willamette & Deschutes.
Do You Want to Run 200 Miles?
Putting on a new race is always invigorating and challenging, and this one is super thrilling. We know this will take a big chunk of our time so we've had to make room in our usual race schedule by eliminating the NUT 50K/17M, and putting the Elk-Kings Trail Race 50K/25K/Mountain Marathon on hold for a year. We are committed to giving you our best, for a lot further and longer than we ever have. This will also take a lot of volunteers, so if you're intrigued about this distance or thinking of running it in a future year, it's a great chance to see it in action and support the runners who'll be chasing some big dreams and goals.
Registration will open when the permit is approved. Who is thinking about running 200 miles this next year?