Tuesday, June 22, 2021
---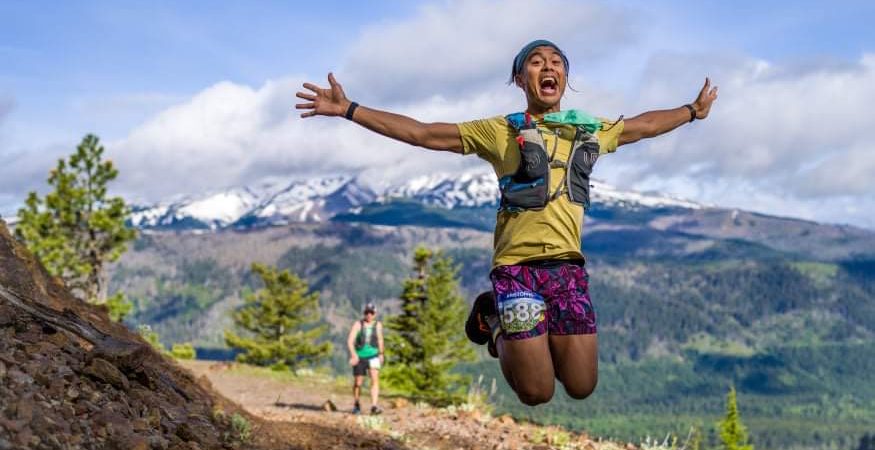 Our sport has certainly grown in the last few years and we hear that the pandemic has introduced more people to running, and specifically trail running. And naturally that means more people running their first trail race ever, so we are offering up some tips for those new trail racers.
At our first in-person race since the pandemic, Smith Rock Ascent, 14% of the runners were doing their first trail race. Wy'east Wonder, our next race, had 25% who were toeing the start line of a trail race for the first-time ever. The upcoming Mt Hood 50K has almost 20% running their first race on trails. A lot of people are discovering the joys of trail racing.
Making Your First Trail Race Great
And just like when trying anything new, there are things you don't know about or haven't experienced yet. Some of these you just have to figure out for yourself, but there are definitely some tips that would make your first trail race experience better. These tips are from the Go Beyond Racing perspective and considers the way we produce our races. We believe these tips are helpful at other races, but the first tip is to READ THE RACE WEBSITE, as other race organizers may handle things differently. So here we go, our nine tips for new trail racers.
Nine Tips for First-Time Trail Racers
Read the Website. Do this before your register and again a day or two before the race. Information like where and when to get your race bib, what the aid stations serve, cutoff times, parking specifics, and the course elevation profile are all there and will be good and important to know. If you can't find an answer to your question on the website, ask. But check the website first. Also, read the pre-race email we send out the week before the race. All of it. It will have any last-minute changes or details you need to know. If you can't find it in your inbox, look in your spam/promotions/junk folders and reach out if you still don't see it.
Pooping and Peeing. This is a very common question or concern. Where do I go when running the race? Many of our races have porta-potties somewhere on the course, but not all do. And even if there are potties on the course, when you gotta go you gotta go, and if you're not near the potty, well… If you need to go during the race, step off the trail. Well off the trail. If its #2, dig a hole at least six inches deep, go, bury the poop, and use the hand sanitizer you carry in your pack to clean up. A couple important tips here:

Carry some folded over squares of toilet paper (not a whole roll) in a Ziplock bag in your pack, inside another Ziplock bag. The second bag can hold your used toilet paper or used feminine products.
Leave something on the trail when you step off, like your pack or handheld. There are two reasons for this. The first is so that if you are near the back of the pack, the sweeper will see it and know that someone is nearby and not continue on, picking up the course markings. Also, it can help you remember which direction you are traveling on the trail when you get back. This may seem obvious but depending on the distance of the race and how you are feeling, you could get confused and start going backwards on the course.

Cupless. All of our races are cupless and have been since 2016. What does this mean? It means there are no cups at the aid stations, and you need to carry your own. We do this because of the huge amount of waste that is created by single-serve cups. There are many brands and styles of reusable and collapsible cups that are lightweight and easy to tuck into your race pack or a pocket while running (we sell them at the races). You'll want a cup to be able to drink Coke or ginger ale or GU electrolyte drink, or warm broth at those longer/nighttime races. Trust us, you'll want some. The aid station volunteers will refill bladders and handheld bottles with whatever you want to drink, but you probably don't want to put Coke in your hydration bladder. Having a cup handy to drink some while at the aid station is amazing.
Trail Etiquette. There are lots of articles out there about trail running etiquette (like this one from our friends at Northwest Dirt Churners) and all that applies to trail racing too. It is important to know these things and as a new trail racer, it'll be helpful in making friends rather than foes out there. When it comes to racing, a few things we'd like to highlight are:

Earbuds are usually allowed in a race, but in one ear only. This is so that you can hear when someone comes up behind you and announces that they want to pass. You will irritate people who are kindly trying to get by you if you can't hear them asking to pass. Plus, it is just safer for you to be aware of your surroundings.
Don't litter. Stuff may accidentally fall out of your pack and we have sweepers (people who follow behind the last runner, picking up the course markings) who will get any garbage on the trail. But this isn't like road racing – you don't get to just throw you stuff on the ground.
Be courteous to other trail users. Chances are they didn't realize there'd be a race when they headed out on their hike, bike, or own run that day and are likely a bit irritated by all the runners when you come across them. When possible, give them the right of way and thank them if they step aside for you.

Drink Enough. Utilize the aid stations, and especially the fluids. Drink. Drink. Drink. Even if you don't think you need to, you do. You'll likely be working harder than you have on your training runs, the weather could be warmer, and/or you may be running further than you ever have. All these things make it important to drink plenty of water. And don't forget the electrolytes too. It doesn't matter if you consume them in an drink (which is easiest) or via salt tabs or salty food and bananas. You need sodium and potassium in addition to water. Trust us, you'll feel better during the race and afterwards if you hydrate well. We have signs at the aid stations that tell you how far it is to the next one, so you can decide how full to refill your bladder or bottle. Don't carry extra water weight if you don't need to, but certainly don't leave an aid station without drinking or taking some water with you.
Fuel for the Last Mile(s). It is very easy to not fuel (eat) near the end of a race. You'll know you're almost there and think that you'll be fine, and maybe your stomach is revolting and choking down anything feels impossible. No one has ever regretted taking a GU gel or a handful of chips or M&Ms out of that last aid station (ok, that may not be entirely true, some may have regretted it). Having some calories for those last two or three miles will be very helpful. Some people like to carry a special treat with them for this part of the race, a little reward for getting that far.
Bib. Wear your bib on the front of your shirt or shorts. Not on your back or on your running pack or on your hat. Know why? We track runners as they go through the aid station and having your bib on the front makes it easier for the volunteers to identify you as you come through. And if the race is chip-timed, the readers have a harder time with bibs that aren't positioned on your front.
Well-Stocked Aid Stations. Our aid stations have just about anything you could hope for. But if you don't see something, just ask as not everything may be displayed. There is Vaseline, sunscreen, bug spray, feminine products, a first-aid kit, plus all the food and liquids.
Leaving the Course. If you drop from a race, you need to let us know as soon as possible. Tell someone at the aid station  or let the race directors know. This is so we don't go looking for you when you don't show up at an aid station or cross the finish line. And trust us, we'll look for you, and we may even call your emergency contact (make sure that is current on your Ultrasignup account too) and that really stresses out moms, dads, spouses, and partners. Some of our races have courses that are easily accessible by car and people have dropped out between aid stations, called someone to come get them, or got in their own car and drove home without letting anyone know. This is an absolute no-no. Many people get involved if we think there is a missing or lost runner, and it is always a relief when we discover that they are safe, but it is very stressful for all the volunteers and race organizers.
So there you go, a handful of tips to make your first trail race awesome. Oh, one more, there's this high you'll be on after your race and you'll be tempted to get on Ultrasignup and register for a bunch more races. Maybe wait a couple days before you do that. But when you're ready to sign up for another, we have lots of races and would be more than happy to welcome you across your second trail race finish line.