Tuesday, January 31, 2023
---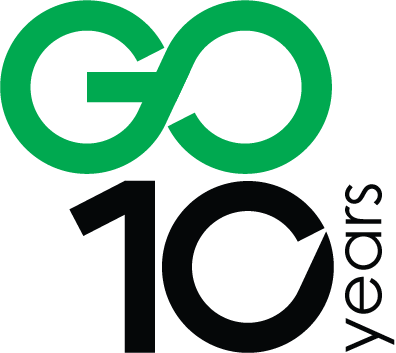 This year Go Beyond Racing turns 10 years old! We were officially born in the fall of 2013. It seems just like last year that we were putting on our first race, and at the same time feels like we've marked courses and welcomed runners across finish lines for way longer than a decade. Spoiler: we have, but more on that in a later story.
Throughout this year, we'll have a few posts where we look back. Just like running a race, we've had some runners' highs, time spent in the pain cave, even a DNF or two. Our journey to today has had it all. We look forward to sharing some memory lane time with you as well as some things you may not know about us and what makes Go Beyond Racing tick.
For this first look-back, we are going to highlight some of the amazing partners we've had the opportunity to work with; and debut a new one at the end (no jumping ahead!)
We couldn't have done what we have without the support of incredible companies and businesses. From the beginning, we aligned ourselves with brands that we personally used and believed in ourselves. Some who were also in their infancy: Wy'east Wolfpack, Trail Butter, Territory Run Co. all started their businesses around the same time. It's been fun collectively lifting each other up and to see how each has grown. We've worked with these from our mutual get-gos and continue to even today as we still think they are amazing parts of the trail running world. We've stayed picky and say no to many sponsorship offers because we feel strongly about authenticity, and we're pretty loyal people so want to choose brands that we love and respect and can see ourselves aligned with for a long time.
Another of our early sponsors was Nike. Ever since they relaunched a trail shoe in 2013, we've worked with them, and their support has been more than most realize. Truly, Nike has helped Go Beyond Racing be who we are today. Yes, we're getting mushy over here.
Lucky Labrador Brewing is one of Portland's original brewpubs (talking way back in 1994). Todd met the owner, Gary Geist, while racing the MacDonald Forest 50K and chatting over beers afterwards. We became friends with Gary and started going to the Lucky Lab starting in 2009, after our running club's weekly group runs, and haven't stopped. Lucky Lab supports our Stumptown Trail Runs and Portland Trail Series races, as well as hosts our annual Volunteer Party. Lucky Lab welcomes sweaty and muddy runners in like no other.
And while we're talking beer, we have to talk about 10 Barrel. Todd fell in love with 10 Barrel (the original pub in Bend, the beer, the pizza) in 2010 or 2011, we don't exactly remember. Thanks to connections with our friend and production manager Brian Carrow, 10 Barrel became our beer sponsor shortly after that and has been a solid partner since. Until now. We still love 10 Barrel and will forever. But things change and 10 Barrel had begun changing how they work with athletic events and outdoor organizations a couple years ago, and we feel lucky to have partnered together so long.
While Todd has strong preferences about beer, Renee isn't a fan and prefers hard cider We were both thrilled back in 2014 when we began working with the new Atlas Cider company. We'd pick up small kegs from the equally small production facility on Bend's east side. They became the second-largest cider producer in Oregon and renamed to AVID Cider. Many had their first taste of hard cider at one of our finish lines! Much gratitude to AVID and their team for their continued support.
The post-race hangout is a favorite part of ultrarunning for many, and drinking a cold beer or hard cider with friends is part of the reward for a big effort on the trails. We knew we had to find a good replacement for 10 Barrel and we feel like we have!
We'd like to welcome Cascade Lakes Brewing to Go Beyond Racing events. If you've been a long-time resident of central Oregon or even a long-time skier at Mt. Bachelor, Cascade Lakes Brewing was the place you stopped on the way back from the mountain. It was about the only place. Like the Lucky Labrador, the brewery also started in 1994 and is run by the Rhine Family, and specifically by brother-sister Andy and Esme Rhine. You may recognize those names as they are both ultrarunners! Cascade Lakes Brewing has morphed and is now a not-for-profit brewery, donating their entire profits to a wide range of causes. Now doesn't that seem like the type of business we'd want to work with?
So for this year's races and beyond, you can fill your finisher glass with a local, ice-cold brew from Cascade Lakes Brewing, hard cider from AVID Cider, or any of the other non-alcoholic options we have at the finish line, while hanging out with your friends and fellow racers. Cheers to making this 10-birthday year a good one!