Sunday, November 8, 2020
---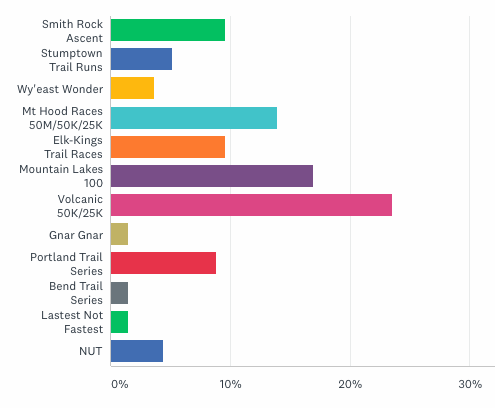 Volcanic! That's the winner of the little election we did. We asked you which was your most favorite Go Beyond Racing race. Volcanic 50K/25K is the favorite race, getting 24% of the votes and beating the second place race, Mountain Lakes 100, by nine votes. Coming in third place was the Mt. Hood Races with 14% of the votes.
Why is Volcanic the favorite race? It's a very unique race, that circumnavigates an active volcano in Washington state. The terrain is varied and challenging and the scenery and views the entire time are mind-blowing. The mountain last erupted in 1980 and the destruction of the powerful event is still evident today.
Here are what some of the exit polls had to say about this tough course on Mt. St. Helens:
"It's the gnarliest of the bunch and in quite possibly one of the most unique locations in the US!"
"This race is SO HARD, but worth the effort because it is SO GORGEOUS! The springs aid station was the best water I have ever tasted."
"Such a different experience than any other race. A huge variety of terrain, crazy lava boulder hopping, clinging to the side of a mountain of scree, multiple ropes to get up/down ravines, and THE BEST cold, natural spring water ever!!!"
"It's honestly hard to choose but there is something truly iconic about running around Mt. St. Helens. I'm pretty sure I'd do that race every single year if I could."
Thanks to everyone who played along with our just-for-fun election while the real deal voting was going on. Everyone who voted had the option to put their name into a drawing for a Go Beyond Racing prize package that includes a hat, arm sleeves, or race shirt of their choice and some other goodies we'll throw in. The winner was drawn today using Random Number Generator and voter #55 won and that is Marc Thayer.
So, is Volcanic now on your list if it wasn't already?