Monday, January 15, 2018
---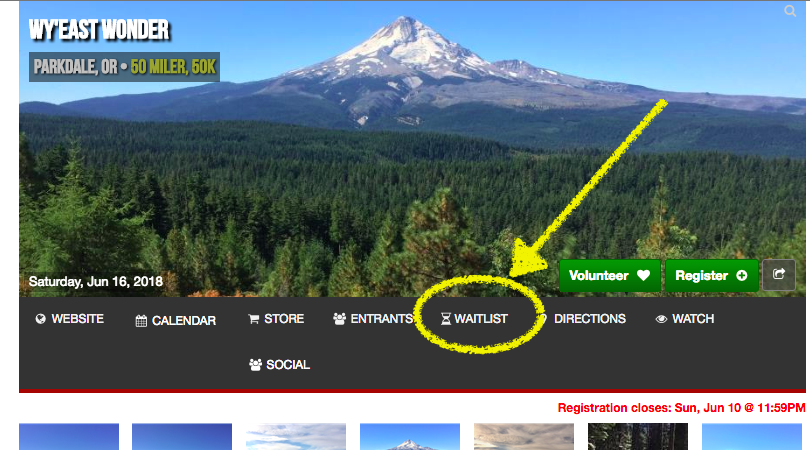 You signed up for a race and it was already full by the time you got to check out and now you are on the wait list. What does that mean? Will you get into the race? When and how will you know?
With the rising popularity of trail and ultra running, races are filling up more quickly than ever. The 2018 Mt. Hood 50K filled in just 26 minutes, whereas the 2017 race took four hours. Our brand new Wy'east Wonder 50M and 50K filled up in just 12 days. The Stumptown Trail Runs took two weeks to sell out last year.
Luckily many races have wait lists. A wait list is a list that is generated when people sign up for a sold-out race. It is a great feature that allows people to run a race who didn't get in before it sold out. People are placed on the wait list in the order they register. The race director has the ability to invite the first person on the wait list into the race, when a registered runner drops out. For Go Beyond Racing races, there is no charge to get on a wait list. You can see where you are on a wait list at any time by clicking the Wait List link on the Ultrasignup page for that race.
When you are selected off a wait list, you receive an email from Ultrasignup. You can reject or accept that invitation to move into the race. If you accept the invitation, your credit card is charged. If you reject the invite, your credit card is not charged and you are removed from the wait list and the race director can invite the next person on the list.
A common question we get from runners is "what are my chances of getting into the race?" The answer is that it depends. It depends on how many people are ahead of you on the wait list, and how many people are going to drop from the registered list. We typically see more people dropping out of longer distance races, like 50-miles and 100-miles, than 50Ks or half marathons.
Some races we've gone through the entire wait list, like Mountain Lakes 100 in 2017. We've even had a situation two years ago with Mt. Hood 50M where someone signed up for the wait list a week before the race, and got in. We also have wait lists that don't move much at all. Keep in mind that new people are getting added to the wait list all the time, as new people register for the race. Runners can also remove themselves from the wait list if they decide they no longer want to be on it.
A lot of wait list activity happens in the last couple weeks before the race. Then you have more people dropping out of the race because they are injured or admitting to themselves that they are just not ready to run. At that same time, people on the wait list aren't accepting their invitations because they are injured, or undertrained, or have made other plans for that date.
We tell people that if you are on a wait list and really want to run the race, train like you are going to get in so you'll be ready and keep an eye on the list to see how you move up.