Course 2023
Oregon 200 Course Information
Thanks again to another season's fires, we have another version of our original course. Bunchgrass Ridge and the Waldo Lake area are not available this year, so we're going south. But don't worry, it's still an amazing course and gives you 204 miles with 26,200′ of gain and loss. Plus, you get to explore an area previously not included which happens to be one of our favorites; the North Umpqua River Trail. This course is an out-an-back, so you'll get to cheer on your fellow racers. You have 102 hours to finish the race!
The race starts and finishes in Oakridge, at Greenwaters Park.
Course Map
Click here to view the Caltopo map of the course. You can zoom in and out and change the map layers (Forest Service, Satellite, Road, etc).
Elevation Profile
There is 26,200′ feet of gain and loss. The low point is the start/finish line, at 1167′ and the highpoint is near the Cowhorn Mountain, on the Windy Pass trail on the Timpanogas loop, at 6,803′.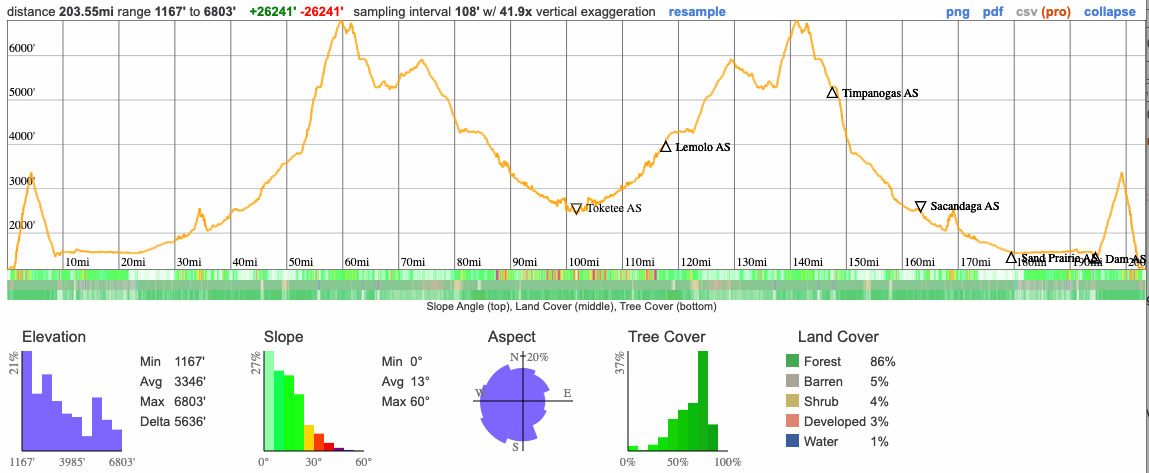 Note that this graphic only shows each aid station once, even though you'll go to all but Toketee twice.
Aid Station Chart
Aid Station
Segment
Distance
Total
Distance
Gain
(ft)
Loss
(ft)
Crew
Access
Pacer
Drop
Bag
Cutoff
Start
Dam
9
9
2460
2058
Yes
No
No
Sand Prairie
15
24
826
823
No
No
Yes
Sacandaga
16
40
2127
1209
Yes
Yes
Yes
Sat 2:00 a.m.
Timpanogas 1
16
56
3275
454
No
No
Yes
Timpanogas 2
10
66
1934
1926
No/
Sleep
No
Yes
Sat 3:00 p.m.
Lemolo
20
86
1599
2728
Yes/
Sleep
Yes
Yes
Sun 1:00 a.m.
Toketee
16
102
1981
3729
Yes/
Sleep
Yes
Yes
Sun 9:00 a.m.
Lemolo
16
118
3729
1981
Yes/
Sleep
Yes
Yes
Sun 5:00 p.m.
Timpanogas 3
20
138
2728
1599
Yes*
Yes*
Yes
Timpanogas 4
10
148
1934
1926
Yes*/
Sleep
Yes*
Yes
Mon 8:00 a.m.
Sacandaga
16
164
454
3275
Yes/
Sleep
Yes
Yes
Mon 4:00 p.m.
Sand Prairie
16
180
1209
2107
No/
Sleep
No
Yes
Dam
15
195
823
826
Yes
Yes
Yes
Tue 7:30 a.m.
Finish
9
204
2058
2460
Tue noon
*pending permit approval and pacer's cannot leave a vehicle here (must get dropped off)
Aid Station to Aid Station Description
Start to Aid Station 1 (Dam)
We're going to make sure you don't start off too fast. You've got a long way to go and it begins with a sturdy climb once you leave Greenwaters Park. You'll gain about 2200′ in the first four and a quarter miles as you head up the Larrison Rock trail and then lose almost all of it on the way down to the first aid station at the Hills Creek Reservoir Dam.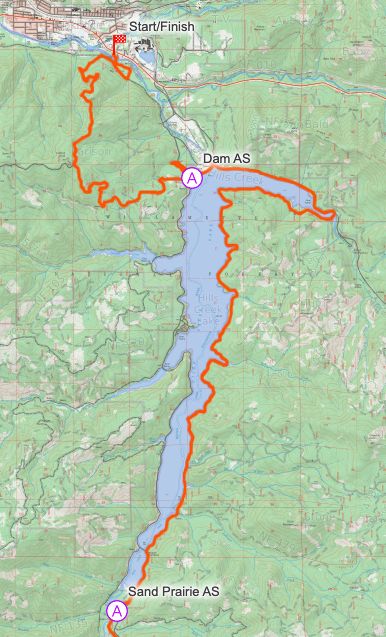 Aid Station 1 to 2 (Sand Prairie)
You run across the dam as you leave the aid station and then get to cruise along the lake on a mostly flat forest road to the Sand Prairie campground/group picnic area. There could be cars along the road after the dam and there's not much shoulder so be careful and watch out.
Aid Station 2 to 3 (Sacandaga)
Leaving Sand Prairie puts you onto the Middle Fork trail. This is a National Recreation Trail and follows closely along the Middle Fork of the Willamette River. It's a pretty gradual ascent the whole way, with a steep climb up and over a big hill at mile 34, near the Campers Flat area. This spot also pulls away from the river for a bit and then you cross the river and continue onto the Sacandaga campground area for the next aid.
Fact: It was our discovery of this Middle Fork Trail during some trail work several years back that inspired this race. That and what you'll experience after the next aid station!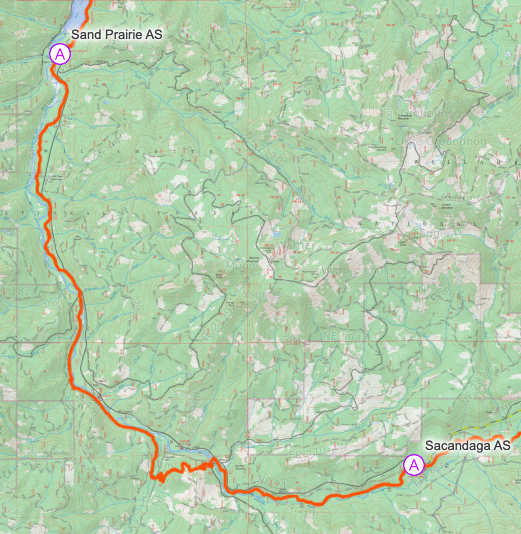 Aid 3 to 4 (Timpanogas)
Fuel up well before leaving Sacandaga as you are about to gain a lot of elevation, over 3,000′. You'll continue on the Middle Fork Trail, eventually passing Chuckle Spring (just try not to laugh) before arriving at Timpanogas Lake. The section is more technical (rooty and rocky) near the end.

Aid 4 to 5 (Timpanogas)
Our favorite part of the course – we hope you love it too. We'll give you two opportunities to experience this loop. The aid station is at a small snow shelter part-way around the lake. When you leave it, you'll climb up to the Windy Pass Trail and make your way around to the high point of the course near Cowhorn Mountain (there's cell service and great views here!). Then it's over toward Sawtooth Mountain on the ridge and a fun descent to the prettiest little lake around, Indigo, with a cool rock hopping portion on its southern edge.  You'll take a lap around this lake and continue on back to the aid station.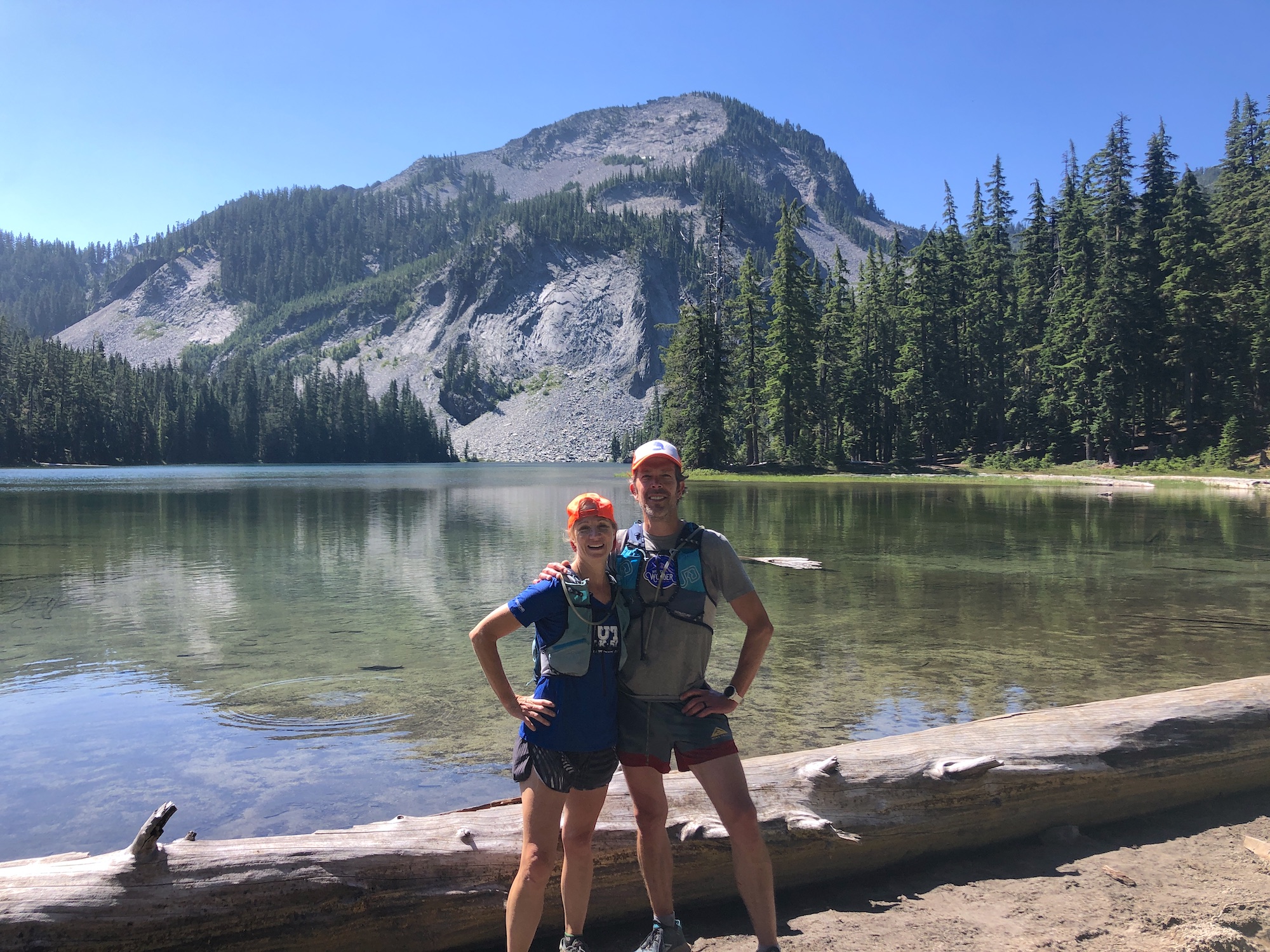 Aid Station 5 to 6 (Lemolo)
You'll leave the aid station the same way you came to get back to the Middle Fork trail for a minute. You'll get off the trail and onto forest road 2154 for a long sustained descent to Lemolo Lake. Almost this entire segment in on a dirt/gravel forest road, but there are a few junctions so don't space out too much and miss a turn. You'll use forest roads 2154 to 770 to 700 to 60. After you pass the Kelsay Valley Campground, you'll get onto the North Umpqua Trail (NUT) and make your way along the north side of Lemolo Lake. The aid station is beside the canal at the White Mule trailhead.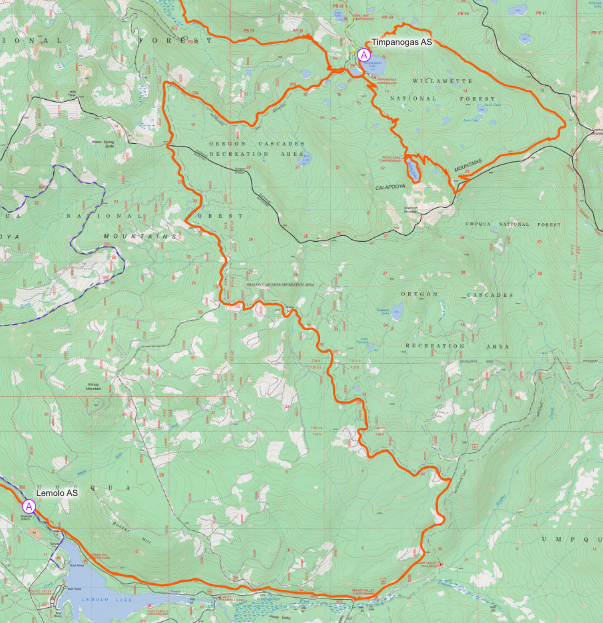 Aid Station 6 to 7 (Toketee)
After refueling and resting, you continue on the NUT, heading west and descending along this very pretty river trail to Toketee Lake. It's technical and rugged with many waterfalls to distract you. Keep an eye on your footing. You'll pass through the popular Umpqua Hot Springs (although you won't go right by the springs/pools) before arriving at Toketee.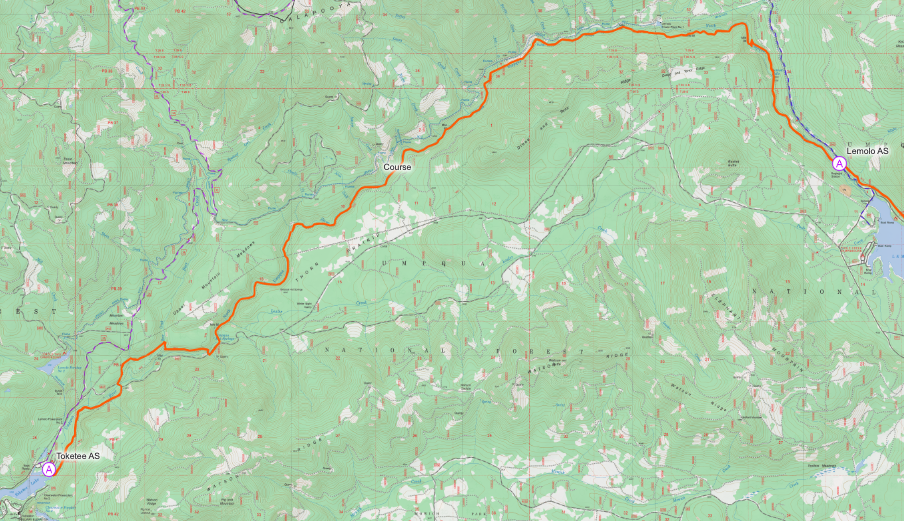 Aid Station 7 to 8 (Lemolo)
You'll return the exact way you came back to the Lemolo Lake aid station except this time it is uphill. You'll feel it too, being half way into the race so this is a good time to take it easy and appreciate the scenery and your impressive effort to get this far.

Aid Station 8 to 9 (Timpanogas)
You're on your way up to Timpanogas now, with some final miles on the NUT before returning to the forest roads for some serious climbing.

Aid Station 9 to 10 (Timpanogas)
When arriving at the aid station, you'll have run 150 miles, likely the furthest you've ever gone. Way to go! Make another loop (in the same direction as before) on the Windy Pass trail and around Indigo Lake before arriving back at the shelter. Even though you've done this 10-mile section before, it'll be a different time of day and you'll be a different person.
Aid Station 10 to 11 (Sacandaga)
You're back on the Middle Fork Trail now but going downhill with the river. It's been awhile so you may have forgotten the trail, but it's more technical in the beginning than the end.

Aid Station 11 to 12 (Sand Prairie)
Finishing up the Middle Fork trail puts you back at the Sand Prairie picnic area and campground. You are so close. Relatively speaking of course.

Aid Station 12 to 13 (Dam)
You return to Hills Creek Reservoir dam by running alongside the lake. After your cross the bridge and get onto the pavement, be careful of potential traffic. You'll be tired and probably not thinking super well and it could be dark, so use caution. This is your final aid station!

Aid Station 13 to 14 (Finish Line!)
Yes, you have a climb right at the finish. You'll go up the 2102 road to the Larrison Rock trail and then descend on the trail to Greenwaters Park, the finish line, and the end of your 204-mile journey.